With soaring temperatures prevalent across the Gulf, the need for DC systems has risen to alarming levels, driving Middle East district cooling market to an apex several notches high. The dire need of the hour to combat the soaring temperatures across the Gulf has led to a surging demand for DC systems across the Middle Eastern turf, eventually prompting companies to come up with a portfolio of technically advanced and energy-efficient DC systems and to expand facilities across the regional terrain, thereby leading to the propulsion of Middle East district cooling industry. A recent instance of the same is that of the National Central Cooling Company PJSC planning to expand DC services across the GCC countries. Also dubbed Tabreed, this Middle East district cooling industry player, with an already existing capacity of 1 million RT (refrigeration tons) at its 72 plants across the Gulf, has been aiming to add more capacity of around 60,000 RT across Oman, Qatar, Saudi Arabia, UAE, and Bahrain. In consequence, this move may have a sizable influence on Middle East district cooling industry, slated to exceed a capacity of 17 million RT by 2024.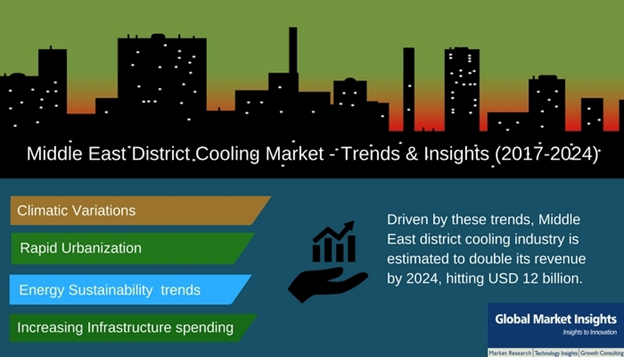 The commercialization of Middle East District Cooling Market has been on the radar since long, as the region has been enduring scorching temperatures since ever. In fact, recently, the region had been hit with a heatwave so catastrophic that the government of Iraq declared an official leave for all the civil employees on the day the temperatures rose above 50 degree Celsius. Recent statistics also claim that the temperature across the Middle East is forecast to oscillate between 45-50 degree Celsius, which is fact validating the necessity of cooling systems in the region. The extensive implementation of air conditioners and other cooling systems however has had a disastrous effect on the environment, owing to excessive power consumption, which has proved to emerge as a vital factor for the growth of Middle East district cooling industry. The pivotal reason for the same can also be attributed to the fact that DC systems deliver freezing water through an underground framework comprising insulated pipes, and are endowed with the characteristics of less noise production, internal temperature control, easy maintenance, and most importantly, reduced power consumption, fueling the development of Middle East district cooling market. It is thus, prudent to mention that the profitability framework of Middle East district cooling industry has experienced a notable surge, in the light of the rising adoption of sustainable cooling technologies that have been implemented to conform to energy conservation targets.
Middle East district cooling industry |Exploring Saudi Arabia |Trends & Prospects
Saudi Arabia has been touted to be one of the most lucrative grounds for stakeholders willing to bet big in Middle East district heating market. The region experiences temperatures skyrocketing over 45 degree Celsius, subject to which air-conditioners cover more than 70% of the regional power consumption. Another pivotal determinant impelling the growth of Middle East district cooling industry on the Saudi Arabia turf is the admirable slew of construction and infrastructural projects.
The year 2016 witnessed the 2nd Annual District Cooling Arabia event taking place at Riyadh, Saudi Arabia. Experts state that the event was a landmark occasion that meticulously addressed the crucial DC issues with respect to Middle East district cooling market. Concentrating on the design methodologies, cold water distribution systems, and regulatory framework, this 2016 event prompted a majority of the Middle East district cooling industry players to put their strategies into action. The year also recorded Middle East district cooling industry size from Saudi Arabia to be around USD 1.5 billion.
In 2015, the Middle East district cooling market behemoth Mitsubishi Heavy Industries, received an order for a DC plant comprising 80 centrifugal chillers, designed to deliver 200,000 RT to a 1.6 million square meter area. Recently, a consortium inclusive of the Quebec-based firm, SNC Lavalin Inc., won a contract to construct a DC system at the King Khalid International Airport in Riyadh. The company, boasting of a record of 45 DC projects across the Gulf, will now be designing and constructing 2 DC plants encompassing a combined capacity of 38,000 RT (around 134 MW). The expansion of both the aforementioned moguls across Saudi Arabia is remnant of the developments underlining the competitive landscape of Middle East district cooling industry.
Middle East district cooling market |Exploring the United Arab Emirates |Trends & Prospects
The United Arab Emirates has reportedly been one of most profitable hotbeds for Middle East district cooling industry. Equipped with a slew of infrastructure projects in the pipeline, in addition to a strict regulatory framework, the upgraded version of which is likely to be launched soon by the Dubai Supreme Council of Energy, Middle East district cooling market stands to gain a great deal from the developments prevalent in the UAE belt.
The trends governing Middle East district cooling industry hinge on the regulatory policies and the appreciable endowments delivered by major enterprises. For instance, the Dubai Integrated Energy Strategy 2030 has set goals toward uninterrupted sustainable energy supply. In 2015, the Dubai government established its ambition of achieving 40% of cooling services through DC systems by 2030, by means of which the region aims to reduce the electricity consumption due to air conditioners by 50%. Strategic regulatory reforms complementary to the aforestated may provide a dynamic push to Middle East district cooling market. The region's progress is epitomized by three key companies that have firmly bolstered their prominence in Middle East district cooling industry. A short, succinct summary of their recent achievements is outlined below:
UAE-based Tabreed recently acquired a DC plant from ICT, and will subsequently add more than 11,500 RT to its current capacity.
UAE-based Emirates Central Cooling Systems Corporation (Empower) plans to extend its DC solutions to Dubai, encompassing a capacity of 30,000 RT.
UAE-based DC Pro Engineering has partnered with Taqnia Energy in a bid to obtain 50% of its valuation from Saudi-based projects by 2020.
UAE's contribution toward Middle East district cooling market is a prime instance of the remarkable developments exhibited in this business space. With a slew of M&As and capacity expansions on the radar, Middle East district cooling industry in UAE is likely to embark on a positive growth path.
Middle East district cooling industry |Exploring Kuwait |Trends & Prospects
Kuwait ranks among the dynamically evolving regions pertaining to Middle East district cooling market, despite the fact that the nation's Kuwait's first DC plant was launched more than 5 decades ago. The country has been demonstrating the trends of energy saving and reduced power consumption in the wake of the rising urbanization and growing population levels of the Gulf. Analogous to its regional counterparts, the nation experiences scorching temperatures – in 2016, the temperature in Kuwait surpassed 54 degree Celsius, which was reportedly 8% higher than the documented figure in 2015. This record acted as major trigger for government of Kuwait to wake up to global pressure for delivering sustainable cooling systems, which will inherently drive Middle East district cooling industry.
At the onset of 2017, tabloids were replete with the news that the Dubai Carbon Centre of Excellence, in cooperation with the UN Environment, will develop an NIS (National Inventory System) for GHG emissions in Kuwait – a fact that may have a marginal impact on Middle East district cooling industry. If reports are to be believed, the creation of NIS is set to reinforce Kuwait's commitment toward the environment, which will subsequently ease the process of eliminating GHG emissions in the nation. The prospects seem bright on the cards for Kuwait, say experts, and it may not be long when the country establishes a rather firm foothold in Middle East district cooling market, pertaining to its positive response when dealing with environmental concerns.
Middle East district cooling industry has no doubt, been depicting an elevated growth map in the recent years. City planners and consumers have come to a consensus that district cooling indeed offers excellent cooling services at a far lesser cost than the traditional cooling systems. Besides, it is worth mentioning that Middle East district cooling market has been riding on the hallmark of green technologies that deliver the twin benefits of industry growth and environmental safety. Middle East district cooling industry share is also likely to experience an upswing on account of extensive DC system installations, pertaining to the region being an emblem of superior infrastructural growth, as is evident from its numerous commercial properties crafted with exquisite workmanship, supported by generous endowments. For instance, in 2017, Dubai government surged its infrastructure expenditure by 27% compared to 2016. The year 2016 also depicts the UAE government allocating a budget of more than USD 4.5 billion toward infrastructure development until 2020.
The enviable pipeline of construction and infrastructure projects across the region has thus, been deemed by experts to be a major factor augmenting the growth of Middle East district cooling industry. Fluctuating climatic conditions in the region have led to growing greenhouse gas emissions, which have subsequently resulted in rising average surface temperatures. Energy conservation is the need of the hour, on the grounds of which the deployment of energy-efficient cooling systems is on priority. This indispensable comprehension has paved the way for the growth of Middle East district cooling market, which chronicled a valuation of USD 6 billion in 2016, and has been projected to double its revenue by 2024, with a monetary worth of more than USD 12 billion.
Market Study Report adds a report titled "Middle East District Cooling Market Size By Production Technique (Free Cooling, Electric Chiller, Absorption Cooling), By Application (Residential, Commercial (Education, Office, Government, Healthcare), Industrial, Industry Analysis Report, Regional Outlook (Saudi Arabia, UAE, Oman, Qatar, Kuwait, Bahrain), Price Trends, Competitive Market Share & Forecast, 2017-2024" available at https://www.marketstudyreport.com/reports/middle-east-district-cooling-market/