Global holographic imaging market is prophesied to reach new heights of success with the growing need to better operate and address current 3D imaging solutions. Over the recent years, holography has been a hot topic in the technology sector with several start-ups demonstrating its potential utilization, most notably in the medical imaging business. With the rapid technological developments prevalent in holography, it is quite evident that holographic imaging industry has a greater chance to go beyond the tag of a niche segment in the coming years.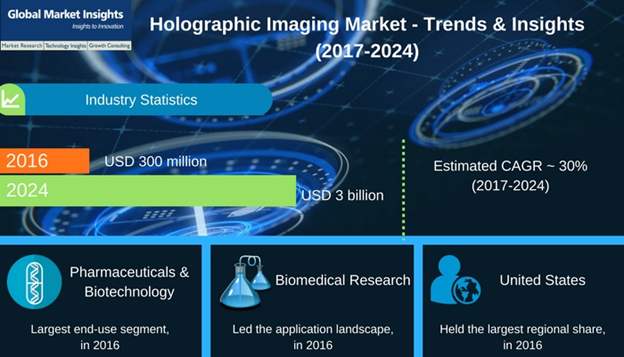 While the holographic effects in one of the most iconic movies – the Star Wars, may seem quite futuristic, there have been several real-life instances wherein companies have successfully deployed hologram based applications to realism. Since the last few years, a progress of mammoth proportions has been exhibited across holographic imaging industry that has marked its roadmap from the fantasy world to reality. Several years ago, holograms may have conjured thoughts of science fiction but today, they are seen pioneering in the medical imaging cosmos. The increasing application of holographic imaging in the medical imaging applications has thus fueled holographic imaging market growth, having dramatically improved the level of diagnosis and treatments. Moreover, as the medical fraternity is experiencing a shift from invasive surgical procedures to minimally invasive interventional therapies, there is a pressing need for live 3D display over 2D images. By rendering the 2D images gathered from CT, MRI scanner, ultrasound, and other devices into 3D floating projections, this technology is set to revolutionize the way the medical industry plans to carry out surgeries and treatment methodologies.

Prominent holographic imaging market players are engaging in novel product launches and innovations in a bid to further popularize the already renowned technology. Below mentioned are some of the breakthroughs driving holographic imaging industry in medical imaging.
In 2013, two of the prominent holographic imaging industry players, Philips and RealView Imaging completed a successful clinical study to evaluate 3D holographic visualization in interventional cardiology. This was recorded as the world's first study that demonstrated the viability of using an advanced live 3D holographic visualization and interaction technology. Since then, holographic imaging industry is witnessing remarkable developments and innovations as there is a substantially huge demand for 3D imaging technologies rather than 2D projections.

EchoPixel, a California-based startup is one of the leading companies to establish its footprints in holographic imaging industry, with its True3D Viewer, that gives a superior holographic experience. This imaging technology obtained its FDA approval and is now enabling doctors to efficiently diagnose diseases and prepare for surgeries with extreme accuracy and efficiency. Further on, it aims to provide medical professionals with a hologram of organs than can be zoomed in on, moved around, or manipulated in actual 3D space. This 3D holographic imaging can also help detect problems in complicated organs such as the brain or the heart. Thus, with the use of technology, doctors are now able to virtually examine the patient's internal organs by much a clearer sense of physical shape and size of the human anatomy. This is the most promising ways holographic imaging industry is making inroads in healthcare.

Holoxica, one of the leading holographic imaging industry player has successfully launched the world's first ever prototype of human anatomy in 3D. Marked as one of the major breakthroughs in the neuroscience domain, this technology claims to provide fresh insights into identifying, treating, and diagnosing several neurological disorders.

Recently, the researchers at the Korea Advanced Institute of Science and Technology have combined holographic microscopy with artificial intelligence to detect anthrax. As per sources, these scientists have generated an algorithm that can analyze images of bacterial spores in less than a second and thus help detect anthrax with 96% accuracy.

The incorporation of holographic techniques in medicine is becoming more and more widespread. Recently, Microsoft introduced a holographic lens that could be used in surgical procedures to diagnose genetic diseases. What stands out here is, that these genetic diseases can now be diagnosed with the help of selfies taken on a smartphone. In the course of developing advancements in holographic imaging market, the researchers of University of California, LA, have taken a giant leap in making holographic technologies both effective and affordable. They have also introduced a new hologram technology that will be able to diagnose chronic diseases.

Holographic imaging industry- A glimpse of the Future
The worldwide holographic imaging industry is still in its initial phase and is yet to be completely commercialized. Nevertheless, the current practical applications of holography, especially in the medical imaging field stand to prove that the future prospects of holographic imaging market can be quite promising. A report by Global Market Insights, Inc., states that the global holographic imaging industry size is expected to grow at a healthy growth rate of 30% over 2017-2024. Moreover, as per estimates, in 2016, holographic imaging market valuation was just worth over USD 300 million, but it is foreseen to generate more that USD 3 billion in coming seven years – certainly a commendable development.

The future holds lucrative prospects for this industry, replete with trending technologies related to the 3D holographic niche. One of them is apparently the holographic TV, which is perhaps deemed to be one of coolest surprises for the audience of the future. This is, in all probability, quite a valid anticipation, as technology giants are already seen taking steps toward developing holographic TV. Samsung for instance, has already patented its next generation technology for a television based on holographic imaging. The researchers of MIT are anticipating the holographic TV to penetrate the market somewhere in the next decade.

Apart from the medical and entertainment sectors, holographic imaging industry is also likely to have a far-reaching impact on the retail sector. Holographic imaging industry is set to reach new heights in the retail business, as retailers are looking forward to adopting human holograms to greet customers, suggest offers, and guide consumers through catalogues.

At present, holographic imaging industry finds commercial applications in healthcare, advertising, and entertainment sectors. However, it is expected that the technology may very soon be featured in several other business arenas such as gaming, retail, automotive, education, and aerospace. In fact, seeing that the concept of holography chiefly remains an intriguing novelty, the possible commercialization of holographic imaging industry in these applications is projected to remain exceptionally bright.

Market Study Report adds a report titled "Holographic Imaging Market Size By Product (Holographic Display, Holography Software, Holography Microscopes, Holographic Prints), By Application (Medical Imaging, Medical Education, Biomedical Research), By End-Use (Pharmaceutical & Biotechnology Companies, Research Organizations, Academic Medical Centers, Hospitals & Clinics), Industry Analysis Report, Regional Outlook (U.S., Canada, Germany, UK, France, Italy, Spain, China, India, Japan, Australia, Brazil, Mexico, South Africa), Application Potential, Price Trends, Competitive Market Share & Forecast, 2017 – 2024" available at https://www.marketstudyreport.com/reports/holographic-imaging-market-size-by-product-holographic-display-holography-software-holography-microscopes-holographic-prints-by-application-medical-imaging-medical-education-biomedical-research-by-end-use-pharmaceutical-biotechnology-companies-research-organizations-academic-medical-centers-hospitals-clinics-industry-analysis-report-regional-outlook-u-s-canada-germany-uk-france-italy-spain-china-india-japan-australia-brazil-mexico-south-africa-application-potential-price-trends-competitive-marke/