The fad to purchase sports cars is on a significant high lately – an ongoing trend that is majorly driving high performance wheels industry. It is prudent to note that performance cars are mainly designed for providing high powertrain as well as excellent braking and handling system. In racing and performance cars, the overall weight of the vehicle is one of the primary factors that manufacturers consider during vehicle design, since it majorly affects the fuel efficiency and overall performance of the vehicles. In fact, many of the automakers and governmental bodies are now focusing on reducing carbon emissions, which will be accomplished by improving its fuel efficiency. Consequently, automakers, it is observed, have been giving massive preference to light weight and high strength alloy wheels – primarily comprising aluminum and magnesium, that help to considerably enhance the overall vehicle performance, and by extension, give a major boost to high performance wheels industry size. What's more pivotal to be considered is the fact that the huge requirement for high performance wheels has been promptly taken note of by renowned behemoths including Forgeline, Enkei, American Racing Wheels, ISS Forged, Carbon Revolution, BSS wheels, Volk racing, VMR wheels, ADV.1 Wheels, HRE performance wheels, Vöxx wheels, and SSR wheels, that have apparently been investing heavily in research and development activities. Many of them in fact, have been reported to have striving toward increasingly expanding their regional presence, in order to stabilize their current stance in high performance wheels market.

According to Global Market Insights, Inc., in 2016, high performance wheels industry held a revenue collection of USD 11 billion. The growing demand for sports cars, premium contact vehicles, and luxury sedans, however, has been estimated to generate lucrative business opportunities for the key participants in high performance wheels market. Taking into account the upcoming surge in material technology and massive deployment of passenger cars, major automakers have been implementing several growth strategies to sustain this business space. A succinct gist of some of these strategies impacting the high performance wheels industry outlook have been enumerated below: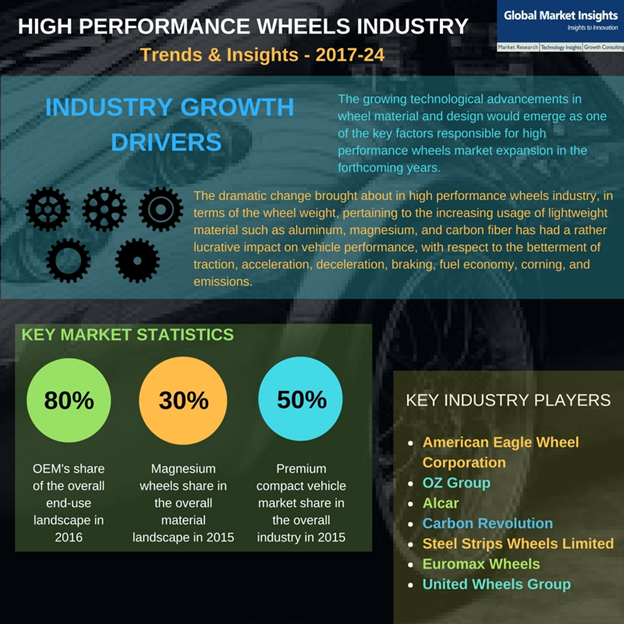 The role that Dymag Performance Wheels plays in impelling high performance wheels market share
Leading commercial manufacturer of monobloc motorcycles and carbon hybrid automotive wheels, and a key player in high performance wheels industry, Dymag Performance Wheels has recently been expanding its product range and technology. By extending its service portfolio across the aftermarket and OEM end-use segments, the company has been trying to consolidate its presence in high performance wheels industry. In fact, it has come to notice that the company has developed innovative product ranges of carbon composite motorcycle and car wheels. Carbon composite wheels contribute to around 30% to 50% less weight as compared to other metal wheels, positively affecting ride performance, vehicle handling, and fuel efficiency of vehicle, which would augment the overall high performance wheels market share. In addition, the UK government has also extended its support for Dymag by awarding a GBP 7.1 million funding through the Advanced Manufacturing Supply Chain Initiative (AMSCI) to encourage UK based automakers for developing innovative products through advanced expertise and research & development activities and to help new suppliers establish their business in UK. Grants such as the aforementioned will help players such as Dymag take a step further with respect to adopting new product development strategies, thereby leading to the manufacture of cost-effective carbon composite wheels. In consequence, this would lead to high performance wheels market gaining mass prominence, additionally driven by the rising demand of carbon composite wheels for sports and racing cars.

Pirelli-McLaren agreement to stimulate high performance wheels industry trends
The adoption of strategic collaborations has been a rather tried-and-tested growth tactic by major companies, instinctively including high performance wheels market. In accordance, numerous automakers have been establishing joint ventures with prominent wheel manufacturers in order to provide highly cost-effective service to customers and subsequently stabiliza their position in high performance wheels industry. For instance, recently in November 2017, the British automaker, McLaren, collaborated with the Italy based multinational company, Pirelli for manufacturing winter tires incorporated with new alloy wheels for its sports series vehicles. These tires would apparently improve the braking performance of supercars in poor weather and road conditions. The surging demand for super car models such as 570S, 540C, and 570GT, that encompass Pirelli wheels in their design, will thus not only benefit the firm in question, but also help to increase the commercialization scope of high performance wheels market.

Continental AG's efforts to render innovation to push high performance wheels industry size
Of late, it has been observed that many of the regional governments have shifted their focus toward the adoption electric vehicles, pertaining to the depleting fossil fuel resources along with growing concerns about carbon footprints – a trend that is projected to majorly impact high performance wheels industry outlook. Most of the European countries such as Germany, UK, France, and Norway have implemented strict norms for the adoption of EVs. Considering their widespread demand and adhering to the norms imposed by regulatory bodies, automakers have been continuously striving to develop high performance vehicles, which would eventually impel high performance wheels market demand. Recently for instance, Continental developed a new wheel design to optimize the braking system of electric vehicles incorporated with light-weight aluminum alloys for improving braking performance. This innovative wheel concept minimizes the overall weight of the brake as well as the wheels, resulting in improved vehicle efficiency and performance. The initiatives undertaken by regional governments to promote the usage of light weight vehicles is thus likely to have a positive influence on Europe high performance wheels industry, which is projected to cross USD 7 billion by the end of 2024.

An insight into EU's CO2 emission standards that will transform high performance wheels industry outlook
Since the onset of 2014, EU has set mandatory legislations for the new cars foraying in the European market, in order to reduce CO2 emissions. The emission limits are apparently decided depending on the mass of the vehicle, by means of a limit value curve. This curve indicates that heavier vehicles are allowed to release higher emissions than lighter vehicles. If any car exceeds the limit value of emissions, then car manufacturer has to pay penalty for excess emissions for each car. Keeping in line with EU's highly optimistic decision, automotive manufacturers have been attempting to curb the mass of their vehicles. In recent years, there have been significant changes in the body material of vehicles from heavyweight steel to lightweight material (aluminum and magnesium alloy). As per statistics, since the last four years, Europe lightweight alloy market has witnessed growth around 25% from OEMs.

The dramatic change brought about in high performance wheels industry, in terms of the wheel weight, pertaining to the increasing usage of lightweight material such as aluminum, magnesium, and carbon fiber has had a rather lucrative impact on vehicle performance, with respect to the betterment of traction, acceleration, deceleration, braking, fuel economy, corning, and emissions. In fact, the well-known brands of luxury cars such as Lamborghini, Ferrari, Maserati, Bentley, Porsche, and Pagani have been rapidly establishing partnerships with wheel manufacturers to develop lightweight and high-quality alloy wheels.

Amidst the current scenario, most of the high performance wheels industry players have been making heavy investments to deploy new technologies for vehicle weight reduction, catering to regional demands. For instance, VMR wheels, a top manufacturer of high-performance luxury alloys for sports cars, mainly BMW, Audi, and VW, is focusing on developing high-quality lightweight wheels in accordance with the demand from the European turf. In essence, it can be inferred that the growing technological advancements in wheel material and design would emerge as one of the key factors responsible for high performance wheels market expansion in the forthcoming years. As per Global Market Insights, Inc. by 2024, high performance wheels market will exceed a revenue collection of USD 160 billion.

Market Study Report has the latest report on this topic at, "High Performance Wheels Market Size By Material (Aluminum, Steel, Magnesium, Carbon Fiber), By Vehicle (Premium compact, Entry-level luxury, Mid-size luxury), By End-use (OEM, Aftermarket), Regional Outlook (U.S., Canada, Germany, UK, France, Italy, Spain, Poland, Russia, China, Japan, India, South Korea, Thailand, Brazil, Argentina, Mexico, GCC, Turkey, South Africa), Growth Potential, Price Trend, Competitive Market Share & Forecast, 2017 – 2024." available at https://www.marketstudyreport.com/reports/high-performance-wheels-market-size-by-material-aluminium-steel-magnesium-carbon-fiber-by-vehicle-premium-compact-entry-level-luxury-mid-size-luxury-by-end-use-oem-aftermarket-regional-outlook-u-s-canada-germany-uk-france-italy-spain-poland-china-japan-india-south-korea-thailand-brazil-argentina-mexico-gcc-turkey-south-africa-growth-potential-price-trend-competitive-market-share-forecast-2016-2024