Technological advancements in the medical space have brought forth unprecedented gains in global artificial disc market in recent times. The technique of artificial disc replacement has been around for nearly twenty years, though much of its popularity has recently come to the fore due to the fact that the technique is a safe alternative for spinal fusion. Back pain and spinal disorders, as on today, are chronicled among the most frequently encountered health complaints that are becoming commonplace, often subject to sedentary lifestyles and obesity. One such potential driver of artificial disc industry is the rising prevalence of several degenerative disc disorders, which are the leading cause of body pain and other ailments. The artificial disc replacement is thus a procedure of replacing a degenerated disc with a prosthesis approved for cervical and lumbar regions.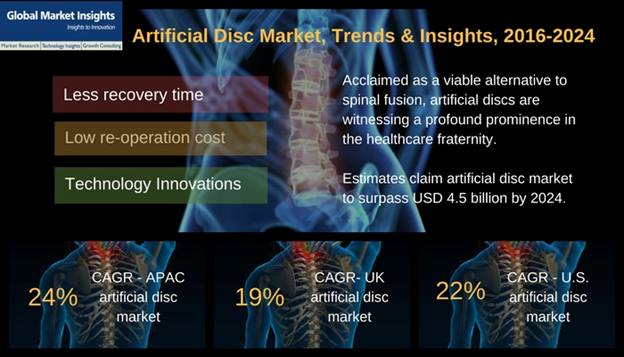 As per the American Academy of Orthopedic Surgeons, around 70% to 80% of people are most likely to experience lower back pain at some point of their lives. However, a majority of them are not likely to require surgical interventions, as minor pains can be alleviated with medication, rest, and physical therapy. But for surgical procedures, lumbar fusion and disc replacement are two of the most widely chosen options. Amongst these, fusions are conventional procedures, wherein painful vertebrae are fused in a so-called welding process. This option considerably reduces the pain caused by the vertebrae, but limits spinal mobility. This limitation is apparently overcome by the disc replacement procedure, owing to which it has been gaining traction as a better option over the fusion technique to help patients with a damaged disc or other back problems. Replacing the injured disc with a prosthesis/synthetic disc that has mobility in several planes is a viable option that patients prefer –a factor undoubtedly driving the growth of artificial disc market.
The FDA approved the procedure of artificial disc replacement for the first time in 2004. Since then, several artificial discs have been developed and used to help patients suffering from back pain. NuVasive, Inc., a leading player in artificial disc market, focusing on transforming spine surgery with minimally disruptive solutions has recently received a 510(k) clearance from the FDA for the use of cervical interbody implant system in more than two levels. This FDA clearance can be marked as a key milestone in the global spine market, with an ability to treat multi-level cervical degeneration disc disease (DDD) in patients. An innovation of this stature in spine surgery also marks a meaningful advancement in the technological space of artificial disc industry. In context to such technological advancements and FDA approvals in the medical fraternity, estimates claim that cervical artificial disc market, which accounted for more than 65% of the overall industry share in 2015, is further projected to register an annual growth rate of 22% over 2016-2024.
Non-invasive medical interventions to stimulate artificial disc market growth
The growing popularity of minimally invasive procedures with less blood loss and significantly less pain is becoming more of a common approach for surgeries. Owing to smaller incisions with advanced medical devices, patients tend to experience minimal blood loss and relatively quicker recovery times than conventional or open surgery. Low re-operation rate and better clinical trial results associated with artificial disc replacement surgery have increased its demand among patients and surgeons. The benefits delivered by ADR procedure in comparison with fusion techniques is set to boost artificial disc industry share.
An insight into the regional landscape of artificial disc industry: U.S. to experience colossal growth opportunities
As per the statistics provided by the American Chiropractic Association, back pain is the second most common reason for doctor visits in the U.S., leading to an expenditure of at least USD 50 billion every year on back pain problems. Moreover, in the U.S., Degenerative Disc Disease (DDD) is identified to be the leading cause of pain that is associated with the changes in annulus fibrosis and nucleus pulposus due to aging. Higher disposable incomes of consumers and the presence of advanced healthcare facilities in the U.S. has significantly favored the growth of regional artificial disc market. In addition, the presence of trained surgeons, advanced facilities for disc replacement surgeries and favorable governmental reimbursement policies have positively impacted the business expansion in the region. In 2013, a leading U.S. medical device company Zimmer-Biomet acquired LDR Holding to enhance its technological landscape in spine market. The combined unit later launched an advanced cervical disc called Mobi-C, which rapidly captured a significant business share of the U.S. cervical artificial discs market. In fact, the U.S. artificial disc industry held a valuation worth USD 360 million in 2015 and is estimated to exceed USD 2 billion over coming seven years. This healthy surge in market valuation translates to a massive annual growth rate of 22% over 2016-2024.
From the above data, it is quite evident that with the advanced infrastructural development in healthcare, U.S. artificial disc industry will soon reach a tipping point, which would shift the focus of investors to Asia Pacific. As per a report by Global Market Insights, Asia Pacific is likely to remain the highest growth contributor to the worldwide artificial disc industry, and it is further anticipated to grow at an annual rate of 24% over 2016-2024. Robust urbanization and improvements in the regional healthcare infrastructure will be important factors fueling the artificial disc industry demand.
The positive momentum behind the success of artificial spine disc replacement surgeries and its revolutionary benefits to patients, validates the growth of artificial disc industry. This expansion is likely to foster the next leap in spinal surgery, with ADR witnessing a wider adoption. Though artificial disc industry still has to face a plethora of challenges, the results from initial efforts depicted by this technique have been promising. Reportedly, artificial disc market size in 2015 was worth USD 770 million, while it has been estimated to surpass USD 4.5 billion by 2024, with a CAGR projection of 21% over 2016-2024, depicting the increasingly expanding scope of this business fraternity. As artificial disc replacement overtakes spinal fusion, it is envisaged that the progress in artificial disc industry will lead to better outcomes pertaining to spinal surgeries.
Market Study Report adds a report titled "Artificial Disc Market Size By Type (Cervical Artificial Disc, Lumbar Artificial Disc), By Material (Metal on Metal, Metal on Biopolymer), Industry Analysis Report, Regional Outlook (US, Canada, UK, Germany, France, Spain, Italy, Japan, China, India, Mexico, Brazil, South Africa), Application Growth Potential, Price Trends, Competitive Market Share & Forecast, 2016 – 2024" available at https://www.marketstudyreport.com/reports/artificial-disc-market-size-by-type-cervical-artificial-disc-lumbar-artificial-disc-by-material-metal-on-metal-metal-on-biopolymer-industry-analysis-report-regional-outlook-us-canada-uk-germany-france-spain-italy-japan-china-india-mexico-brazil-south-africa-application-growth-potential-price-trends-competitive-market-share-forecast-2016-2024/