Aluminum pigments industry, a rather significant vertical of the specialty chemicals domain, is perpetually consumer-driven. Reputed to have successfully penetrated the automotive and personal care sectors since long, this market boasts of an even myriad end-use spectrum as on today, pertaining to the fact that the demand for metallic pigments in paints and coatings has been surging by the day. This escalating requirement has prompted manufacturers to adopt tried-and-tested as well as modernistic growth strategies in a bid to give a competitive advantage over their rivals in aluminum pigments industry. Recently, Silberline Manufacturing Co., Inc., and Nexeo Solutions, Inc., extended their partnership to build high performing and special effect aluminum pigments that enhance the aesthetic value of paints, textiles, inks, plastics, coatings, and textiles. Nexeo's promotional tactics are likely to help Silberline enhance its marketing and distribution network. This move would also increase the demand value for Siberline's products, which would strengthen its position in aluminum pigments industry.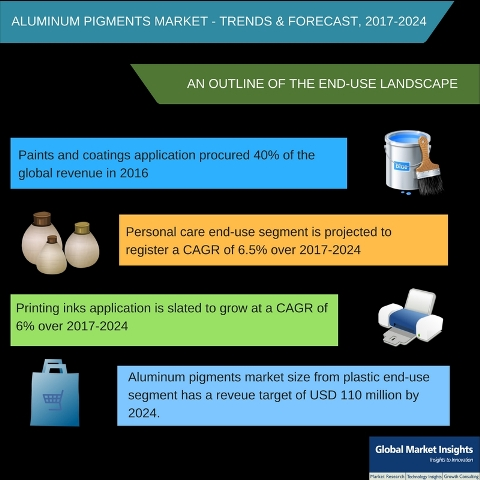 Tracing the origins of aluminum pigments industry
Metallic pigments have been utilized since ages, in the age-old art of gold beating that was practiced across Egypt, China, India, and Europe. With the passage of time and the plethora of novel inventions that were brought to the fore, the practice of shredding thin gold leaves into powdered pigment forms that could be used across printing inks and ornamental artworks was propagated. Then on, subject to rising gold prices, copper, bronze, silver, and tin powders were used as pigments. In 19th century, Bessemer developed a stamping process and used aluminum pigments for the first time as a perfect substitute for tin and silver in his stamping process. This debut could be effectively considered the inception of aluminum pigments industry.
Post the first milestone, during the first half of the twentieth century, E.J. Hall came up with a secured, explosion-free manufacturing process to produce aluminum pigments – a move that marked the commercialization of aluminum pigments market. Apparently, pertaining to the efficiency of the process, it is still deployed by aluminum pigments industry players. Today in the 21st century, this fraternity has witnessed a slew of technological and procedural changes, and has successfully penetrated pivotal domains such as paints & coatings, plastics, cosmetic products, and printing inks.
Aluminum Pigments industry outlook across the paints & coatings sector
Aluminum pigments are extensively used by paints & coatings industry players, as the product finds massive applications in the construction, automotive, and metallic coating arenas. The contribution of the paints & coatings sector toward aluminum pigments industry is vividly evident from the estimates compiled by a research study undertaken recently. In accordance with the same, paints & coatings contributed to more than 40% of the overall aluminum pigments market size in 2016.
Speaking of the automotive sector, it is prudent to mention that more than 50% of passenger vehicles acquire metallic effects through solvent-borne base coatings, that most certainly are incorporated with aluminum pigments. The deployment of these pigments is also witnessed in coil coatings, sports equipment coatings, and motorcycle & bicycle coatings, subject to their high performance and user-friendly features. The massive utilization of these pigments in the coatings sector is thus certain to augment the commercialization scope of aluminum pigments industry in the forthcoming years.
Aluminum Pigments market outlook across the plastics sector
The plastics domain is reportedly one of the most lucrative application sectors encompassed within aluminum pigments industry. The principal drivers fueling the demand for these pigments across the plastics sector are their features – these pigments possess the exceptional ability to reflect UV, infrared, & visible light rays and are proficient enough to impart visual effects to plastic items. In most plastic applications, in fact, aluminum pigments are used in the production of shopping bags, duct tapes, and agricultural films, owing to the high level of opacity offered by the products. The massive demand for the aforementioned plastic components would undeniably carve out a profitable growth map for aluminum pigments industry share from the plastics sector.
Aluminum pigments are also prominently deployed in the thermoplastics sector, pertaining to their admirable ability to develop a gray sheen with outstanding hiding featured at lower concentrations. Also, popularly utilized as viable alternatives for pearlescent pigments, these products have witnessed a heavy penetration across various geographies such as North America, Asia Pacific, Europe, and Latin America, which has propelled the growth of the overall aluminum pigments industry.
How contemporary product launches may impact aluminum pigments market expansion
In 2016, Huntsman Corporation, a chemical industry giant, developed a novel super pure grade of TiO2 named as HOMBITAN® AFDC 101 pigment, which can be used to enhance the opacity of the cosmetic items. The product is deemed fit to be used across high-end cosmetic formulations such as lipsticks, eye shadows, creams, and face powders. The firm is reputed for harnessing its expertise to develop new pigments and solutions that impart exceptional opacity, color, and brightness to the end product. Despite the fact that Huntsman's initiative was targeted toward titanium pigments, experts cite that it is a crucial instance that depicts the developments underlining the overall metallic pigments landscape. Further on, it has also been predicted that initiatives of a similar nature are likely to be on the radar during the next few years, which would definitely carve out a lucrative growth path for aluminum pigments market.
A glimpse into the future of aluminum pigments industry
Aluminum, by nature, is extremely reactive, owing to which a mixture of aluminum pigments may result in combustion and dust explosions. The product's interaction with alkalis, acids, or even water, for a longer duration, will lead to the formation of hydrogen, which is highly inflammable. Subject to the same, aluminum pigments market is being governed by strict legislations mandating the designing of fire-resistant storage houses and packaging procedures, which may, in all probability, pose disputable challenges for aluminum pigments industry. The deployment of silver or stainless-steel pigments as substitutes across the cosmetics & paints and coatings sectors may further constrain aluminum pigments market growth.
However, efforts are being made to meet these challenges head on. Companies partaking in aluminum pigments industry share have been attempting to launch contemporary products that comply with the standards set by regulatory authorities. The introduction of these competent products in the mass market would no doubt, ensure safety and maintain a green environment, while simultaneously providing a boost to aluminum pigments industry size.
The rapidly escalating competition and high end-user expectations have pressurized manufacturers to enhance their proficiency through effective end-to-end supply chain activities, that would certainly lead to improved productivity and by extension, a gradual surge in the profit margins of aluminum pigments industry. In fact, Global Market Insights, Inc., predicts aluminum pigments market to surpass a valuation of USD 580 million by 2024.
Market Study Report adds a report titled "Aluminum Pigments Market Size By Grade (Leafing, Non-leafing), By End-user (Paints & Coatings, Plastic, Personal Care, Printing Inks), Industry Analysis Report, Regional Outlook (U.S., Canada, Germany, UK, France, Spain, Italy, China, India, Japan, Australia, Indonesia, Malaysia, Brazil, Mexico, South Africa, GCC), Growth Potential, Price Trends, Competitive Market Share & Forecast, 2017-2024" available at https://www.marketstudyreport.com/reports/aluminum-pigments-market-size-by-grade-leafing-non-leafing-by-end-user-paints-coatings-plastic-personal-care-printing-inks-industry-analysis-report-regional-outlook-u-s-canada-germany-uk-france-spain-italy-china-india-japan-australia-indonesia-malaysia-brazil-mexico-south-africa-gcc-growth-potential-price-trends-competitive-market-share-forecast-2017-2024/