Global Self Contained Breathing Apparatus (SCBA) Market by Manufacturers, Countries, Type and Application, Forecast to 2022
Choose Licence
 

A self-contained breathing apparatus, or SCBA, sometimes referred to as a compressed air breathing apparatus (CABA), or simply breathing apparatus (BA), is a device worn by rescue workers, firefighters, and others to provide breathable air in an immediately dangerous to life or health atmosphere (IDLH). When not used underwater, they are sometimes called industrial breathing sets. The term self-contained means that the breathing set is not dependent on a remote supply (e.g., through a long hose). If designed for use under water, it is called SCUBA (self-contained underwater breathing apparatus).

Scope of the Report:
This report focuses on the Self Contained Breathing Apparatus (SCBA) in Global market, especially in North America, Europe and Asia-Pacific, South America, Middle East and Africa. This report categorizes the market based on manufacturers, regions, type and application.

Market Segment by Manufacturers, this report covers
    MSA
    Scott Safety
    Honeywell
    Dr?ger
    Interspiro
    Cam Lock
    Shigematsu
    Avon
    Matisec
    Sinoma
    Koken

Market Segment by Regions, regional analysis covers
North America (USA, Canada and Mexico)
Europe (Germany, France, UK, Russia and Italy)
Asia-Pacific (China, Japan, Korea, India and Southeast Asia)
South America (Brazil, Argentina, Columbia etc.)
Middle East and Africa (Saudi Arabia, UAE, Egypt, Nigeria and South Africa)

Market Segment by Type, covers
    Open-Circuit
    Closed-Circuit

Market Segment by Applications, can be divided into
    Fire Fighting
    Industrial Use
    Other Use

There are 15 Chapters to deeply display the global Self Contained Breathing Apparatus (SCBA) market.

Chapter 1, to describe Self Contained Breathing Apparatus (SCBA) Introduction, product scope, market overview, market opportunities, market risk, market driving force;

Chapter 2, to analyze the top manufacturers of Self Contained Breathing Apparatus (SCBA), with sales, revenue, and price of Self Contained Breathing Apparatus (SCBA), in 2016 and 2017;

Chapter 3, to display the competitive situation among the top manufacturers, with sales, revenue and market share in 2016 and 2017;

Chapter 4, to show the global market by regions, with sales, revenue and market share of Self Contained Breathing Apparatus (SCBA), for each region, from 2012 to 2017;

Chapter 5, 6, 7, 8 and 9, to analyze the key regions, with sales, revenue and market share by key countries in these regions;

Chapter 10 and 11, to show the market by type and application, with sales market share and growth rate by type, application, from 2012 to 2017;

Chapter 12, Self Contained Breathing Apparatus (SCBA) market forecast, by regions, type and application, with sales and revenue, from 2017 to 2022;

Chapter 13, 14 and 15, to describe Self Contained Breathing Apparatus (SCBA) sales channel, distributors, traders, dealers, Research Findings and Conclusion, appendix and data source





                           
 

Table of Contents

1 Market Overview
    1.1 Self Contained Breathing Apparatus (SCBA) Introduction
    1.2 Market Analysis by Type
        1.2.1 Open-Circuit
        1.2.2 Closed-Circuit
    1.3 Market Analysis by Applications
        1.3.1 Fire Fighting
        1.3.2 Industrial Use
        1.3.3 Other Use
    1.4 Market Analysis by Regions
        1.4.1 North America (USA, Canada and Mexico)
            1.4.1.1 USA Market States and Outlook (2012-2022)
            1.4.1.2 Canada Market States and Outlook (2012-2022)
            1.4.1.3 Mexico Market States and Outlook (2012-2022)
        1.4.2 Europe (Germany, France, UK, Russia and Italy)
            1.4.2.1 Germany Market States and Outlook (2012-2022)
            1.4.2.2 France Market States and Outlook (2012-2022)
            1.4.2.3 UK Market States and Outlook (2012-2022)
            1.4.2.4 Russia Market States and Outlook (2012-2022)
            1.4.2.5 Italy Market States and Outlook (2012-2022)
        1.4.3 Asia-Pacific (China, Japan, Korea, India and Southeast Asia)
            1.4.3.1 China Market States and Outlook (2012-2022)
            1.4.3.2 Japan Market States and Outlook (2012-2022)
            1.4.3.3 Korea Market States and Outlook (2012-2022)
            1.4.3.4 India Market States and Outlook (2012-2022)
            1.4.3.5 Southeast Asia Market States and Outlook (2012-2022)
        1.4.4 South America, Middle East and Africa
            1.4.4.1 Brazil Market States and Outlook (2012-2022)
            1.4.4.2 Egypt Market States and Outlook (2012-2022)
            1.4.4.3 Saudi Arabia Market States and Outlook (2012-2022)
            1.4.4.4 South Africa Market States and Outlook (2012-2022)
            1.4.4.5 Nigeria Market States and Outlook (2012-2022)
    1.5 Market Dynamics
        1.5.1 Market Opportunities
        1.5.2 Market Risk
        1.5.3 Market Driving Force
2 Manufacturers Profiles
    2.1 MSA
        2.1.1 Business Overview
        2.1.2 Self Contained Breathing Apparatus (SCBA) Type and Applications
            2.1.2.1 Type 1
            2.1.2.2 Type 2
        2.1.3 MSA Self Contained Breathing Apparatus (SCBA) Sales, Price, Revenue, Gross Margin and Market Share (2016-2017)
    2.2 Scott Safety
        2.2.1 Business Overview
        2.2.2 Self Contained Breathing Apparatus (SCBA) Type and Applications
            2.2.2.1 Type 1
            2.2.2.2 Type 2
        2.2.3 Scott Safety Self Contained Breathing Apparatus (SCBA) Sales, Price, Revenue, Gross Margin and Market Share (2016-2017)
    2.3 Honeywell
        2.3.1 Business Overview
        2.3.2 Self Contained Breathing Apparatus (SCBA) Type and Applications
            2.3.2.1 Type 1
            2.3.2.2 Type 2
        2.3.3 Honeywell Self Contained Breathing Apparatus (SCBA) Sales, Price, Revenue, Gross Margin and Market Share (2016-2017)
    2.4 Dr?ger
        2.4.1 Business Overview
        2.4.2 Self Contained Breathing Apparatus (SCBA) Type and Applications
            2.4.2.1 Type 1
            2.4.2.2 Type 2
        2.4.3 Dr?ger Self Contained Breathing Apparatus (SCBA) Sales, Price, Revenue, Gross Margin and Market Share (2016-2017)
    2.5 Interspiro
        2.5.1 Business Overview
        2.5.2 Self Contained Breathing Apparatus (SCBA) Type and Applications
            2.5.2.1 Type 1
            2.5.2.2 Type 2
        2.5.3 Interspiro Self Contained Breathing Apparatus (SCBA) Sales, Price, Revenue, Gross Margin and Market Share (2016-2017)
    2.6 Cam Lock
        2.6.1 Business Overview
        2.6.2 Self Contained Breathing Apparatus (SCBA) Type and Applications
            2.6.2.1 Type 1
            2.6.2.2 Type 2
        2.6.3 Cam Lock Self Contained Breathing Apparatus (SCBA) Sales, Price, Revenue, Gross Margin and Market Share (2016-2017)
    2.7 Shigematsu
        2.7.1 Business Overview
        2.7.2 Self Contained Breathing Apparatus (SCBA) Type and Applications
            2.7.2.1 Type 1
            2.7.2.2 Type 2
        2.7.3 Shigematsu Self Contained Breathing Apparatus (SCBA) Sales, Price, Revenue, Gross Margin and Market Share (2016-2017)
    2.8 Avon
        2.8.1 Business Overview
        2.8.2 Self Contained Breathing Apparatus (SCBA) Type and Applications
            2.8.2.1 Type 1
            2.8.2.2 Type 2
        2.8.3 Avon Self Contained Breathing Apparatus (SCBA) Sales, Price, Revenue, Gross Margin and Market Share (2016-2017)
    2.9 Matisec
        2.9.1 Business Overview
        2.9.2 Self Contained Breathing Apparatus (SCBA) Type and Applications
            2.9.2.1 Type 1
            2.9.2.2 Type 2
        2.9.3 Matisec Self Contained Breathing Apparatus (SCBA) Sales, Price, Revenue, Gross Margin and Market Share (2016-2017)
    2.10 Sinoma
        2.10.1 Business Overview
        2.10.2 Self Contained Breathing Apparatus (SCBA) Type and Applications
            2.10.2.1 Type 1
            2.10.2.2 Type 2
        2.10.3 Sinoma Self Contained Breathing Apparatus (SCBA) Sales, Price, Revenue, Gross Margin and Market Share (2016-2017)
    2.11 Koken
        2.11.1 Business Overview
        2.11.2 Self Contained Breathing Apparatus (SCBA) Type and Applications
            2.11.2.1 Type 1
            2.11.2.2 Type 2
        2.11.3 Koken Self Contained Breathing Apparatus (SCBA) Sales, Price, Revenue, Gross Margin and Market Share (2016-2017)
3 Global Self Contained Breathing Apparatus (SCBA) Market Competition, by Manufacturer
    3.1 Global Self Contained Breathing Apparatus (SCBA) Sales and Market Share by Manufacturer
    3.2 Global Self Contained Breathing Apparatus (SCBA) Revenue and Market Share by Manufacturer
    3.3 Market Concentration Rate
        3.3.1 Top 3 Self Contained Breathing Apparatus (SCBA) Manufacturer Market Share
        3.3.2 Top 6 Self Contained Breathing Apparatus (SCBA) Manufacturer Market Share
    3.4 Market Competition Trend
4 Global Self Contained Breathing Apparatus (SCBA) Market Analysis by Regions
    4.1 Global Self Contained Breathing Apparatus (SCBA) Sales, Revenue and Market Share by Regions
        4.1.1 Global Self Contained Breathing Apparatus (SCBA) Sales by Regions (2012-2017)
        4.1.2 Global Self Contained Breathing Apparatus (SCBA) Revenue by Regions (2012-2017)
    4.2 North America Self Contained Breathing Apparatus (SCBA) Sales and Growth (2012-2017)
    4.3 Europe Self Contained Breathing Apparatus (SCBA) Sales and Growth (2012-2017)
    4.4 Asia-Pacific Self Contained Breathing Apparatus (SCBA) Sales and Growth (2012-2017)
    4.5 South America Self Contained Breathing Apparatus (SCBA) Sales and Growth (2012-2017)
    4.6 Middle East and Africa Self Contained Breathing Apparatus (SCBA) Sales and Growth (2012-2017)
5 North America Self Contained Breathing Apparatus (SCBA) by Countries
    5.1 North America Self Contained Breathing Apparatus (SCBA) Sales, Revenue and Market Share by Countries
        5.1.1 North America Self Contained Breathing Apparatus (SCBA) Sales by Countries (2012-2017)
        5.1.2 North America Self Contained Breathing Apparatus (SCBA) Revenue by Countries (2012-2017)
    5.2 USA Self Contained Breathing Apparatus (SCBA) Sales and Growth (2012-2017)
    5.3 Canada Self Contained Breathing Apparatus (SCBA) Sales and Growth (2012-2017)
    5.4 Mexico Self Contained Breathing Apparatus (SCBA) Sales and Growth (2012-2017)
6 Europe Self Contained Breathing Apparatus (SCBA) by Countries
    6.1 Europe Self Contained Breathing Apparatus (SCBA) Sales, Revenue and Market Share by Countries
        6.1.1 Europe Self Contained Breathing Apparatus (SCBA) Sales by Countries (2012-2017)
        6.1.2 Europe Self Contained Breathing Apparatus (SCBA) Revenue by Countries (2012-2017)
    6.2 Germany Self Contained Breathing Apparatus (SCBA) Sales and Growth (2012-2017)
    6.3 UK Self Contained Breathing Apparatus (SCBA) Sales and Growth (2012-2017)
    6.4 France Self Contained Breathing Apparatus (SCBA) Sales and Growth (2012-2017)
    6.5 Russia Self Contained Breathing Apparatus (SCBA) Sales and Growth (2012-2017)
    6.6 Italy Self Contained Breathing Apparatus (SCBA) Sales and Growth (2012-2017)
7 Asia-Pacific Self Contained Breathing Apparatus (SCBA) by Countries
    7.1 Asia-Pacific Self Contained Breathing Apparatus (SCBA) Sales, Revenue and Market Share by Countries
        7.1.1 Asia-Pacific Self Contained Breathing Apparatus (SCBA) Sales by Countries (2012-2017)
        7.1.2 Asia-Pacific Self Contained Breathing Apparatus (SCBA) Revenue by Countries (2012-2017)
    7.2 China Self Contained Breathing Apparatus (SCBA) Sales and Growth (2012-2017)
    7.3 Japan Self Contained Breathing Apparatus (SCBA) Sales and Growth (2012-2017)
    7.4 Korea Self Contained Breathing Apparatus (SCBA) Sales and Growth (2012-2017)
    7.5 India Self Contained Breathing Apparatus (SCBA) Sales and Growth (2012-2017)
    7.6 Southeast Asia Self Contained Breathing Apparatus (SCBA) Sales and Growth (2012-2017)
8 South America Self Contained Breathing Apparatus (SCBA) by Countries
    8.1 South America Self Contained Breathing Apparatus (SCBA) Sales, Revenue and Market Share by Countries
        8.1.1 South America Self Contained Breathing Apparatus (SCBA) Sales by Countries (2012-2017)
        8.1.2 South America Self Contained Breathing Apparatus (SCBA) Revenue by Countries (2012-2017)
    8.2 Brazil Self Contained Breathing Apparatus (SCBA) Sales and Growth (2012-2017)
    8.3 Argentina Self Contained Breathing Apparatus (SCBA) Sales and Growth (2012-2017)
    8.4 Columbia Self Contained Breathing Apparatus (SCBA) Sales and Growth (2012-2017)
9 Middle East and Africa Self Contained Breathing Apparatus (SCBA) by Countries
    9.1 Middle East and Africa Self Contained Breathing Apparatus (SCBA) Sales, Revenue and Market Share by Countries
        9.1.1 Middle East and Africa Self Contained Breathing Apparatus (SCBA) Sales by Countries (2012-2017)
        9.1.2 Middle East and Africa Self Contained Breathing Apparatus (SCBA) Revenue by Countries (2012-2017)
    9.2 Saudi Arabia Self Contained Breathing Apparatus (SCBA) Sales and Growth (2012-2017)
    9.3 UAE Self Contained Breathing Apparatus (SCBA) Sales and Growth (2012-2017)
    9.4 Egypt Self Contained Breathing Apparatus (SCBA) Sales and Growth (2012-2017)
    9.5 Nigeria Self Contained Breathing Apparatus (SCBA) Sales and Growth (2012-2017)
    9.6 South Africa Self Contained Breathing Apparatus (SCBA) Sales and Growth (2012-2017)
10 Global Self Contained Breathing Apparatus (SCBA) Market Segment by Type
    10.1 Global Self Contained Breathing Apparatus (SCBA) Sales, Revenue and Market Share by Type (2012-2017)
        10.1.1 Global Self Contained Breathing Apparatus (SCBA) Sales and Market Share by Type (2012-2017)
        10.1.2 Global Self Contained Breathing Apparatus (SCBA) Revenue and Market Share by Type (2012-2017)
    10.2 Open-Circuit Sales Growth and Price
        10.2.1 Global Open-Circuit Sales Growth (2012-2017)
        10.2.2 Global Open-Circuit Price (2012-2017)
    10.3 Closed-Circuit Sales Growth and Price
        10.3.1 Global Closed-Circuit Sales Growth (2012-2017)
        10.3.2 Global Closed-Circuit Price (2012-2017)
11 Global Self Contained Breathing Apparatus (SCBA) Market Segment by Application
    11.1 Global Self Contained Breathing Apparatus (SCBA) Sales Market Share by Application (2012-2017)
    11.2 Fire Fighting Sales Growth (2012-2017)
    11.3 Industrial Use Sales Growth (2012-2017)
    11.4 Other Use Sales Growth (2012-2017)
12 Self Contained Breathing Apparatus (SCBA) Market Forecast (2017-2022)
    12.1 Global Self Contained Breathing Apparatus (SCBA) Sales, Revenue and Growth Rate (2017-2022)
    12.2 Self Contained Breathing Apparatus (SCBA) Market Forecast by Regions (2017-2022)
        12.2.1 North America Self Contained Breathing Apparatus (SCBA) Market Forecast (2017-2022)
        12.2.2 Europe Self Contained Breathing Apparatus (SCBA) Market Forecast (2017-2022)
        12.2.3 Asia-Pacific Self Contained Breathing Apparatus (SCBA) Market Forecast (2017-2022)
        12.2.4 South America Self Contained Breathing Apparatus (SCBA) Market Forecast (2017-2022)
        12.2.5 Middle East and Africa Self Contained Breathing Apparatus (SCBA) Market Forecast (2017-2022)
    12.3 Self Contained Breathing Apparatus (SCBA) Market Forecast by Type (2017-2022)
    12.4 Self Contained Breathing Apparatus (SCBA) Market Forecast by Application (2017-2022)
13 Sales Channel, Distributors, Traders and Dealers
    13.1 Sales Channel
        13.1.1 Direct Marketing
        13.1.2 Indirect Marketing
        13.1.3 Marketing Channel Future Trend
    13.2 Distributors, Traders and Dealers
14 Research Findings and Conclusion
15 Appendix
    15.1 Methodology
    15.2 Analyst Introduction
    15.3 Data Source

List of Tables and Figures

Figure Self Contained Breathing Apparatus (SCBA) Picture
Table Product Specifications of Self Contained Breathing Apparatus (SCBA)
Figure Global Sales Market Share of Self Contained Breathing Apparatus (SCBA) by Types in 2016
Table Self Contained Breathing Apparatus (SCBA) Types for Major Manufacturers
Figure Open-Circuit Picture
Figure Closed-Circuit Picture
Table Self Contained Breathing Apparatus (SCBA) Sales Market Share by Applications in 2016
Figure Fire Fighting Picture
Figure Industrial Use Picture
Figure Other Use Picture
Figure USA Self Contained Breathing Apparatus (SCBA) Revenue (Value) and Growth Rate (2012-2022)
Figure Canada Self Contained Breathing Apparatus (SCBA) Revenue (Value) and Growth Rate (2012-2022)
Figure Mexico Self Contained Breathing Apparatus (SCBA) Revenue (Value) and Growth Rate (2012-2022)
Figure Germany Self Contained Breathing Apparatus (SCBA) Revenue (Value) and Growth Rate (2012-2022)
Figure France Self Contained Breathing Apparatus (SCBA) Revenue (Value) and Growth Rate (2012-2022)
Figure UK Self Contained Breathing Apparatus (SCBA) Revenue (Value) and Growth Rate (2012-2022)
Figure Russia Self Contained Breathing Apparatus (SCBA) Revenue (Value) and Growth Rate (2012-2022)
Figure Italy Self Contained Breathing Apparatus (SCBA) Revenue (Value) and Growth Rate (2012-2022)
Figure China Self Contained Breathing Apparatus (SCBA) Revenue (Value) and Growth Rate (2012-2022)
Figure Japan Self Contained Breathing Apparatus (SCBA) Revenue (Value) and Growth Rate (2012-2022)
Figure Korea Self Contained Breathing Apparatus (SCBA) Revenue (Value) and Growth Rate (2012-2022)
Figure India Self Contained Breathing Apparatus (SCBA) Revenue (Value) and Growth Rate (2012-2022)
Figure Southeast Asia Self Contained Breathing Apparatus (SCBA) Revenue (Value) and Growth Rate (2012-2022)
Figure Brazil Self Contained Breathing Apparatus (SCBA) Revenue (Value) and Growth Rate (2012-2022)
Figure Egypt Self Contained Breathing Apparatus (SCBA) Revenue (Value) and Growth Rate (2012-2022)
Figure Saudi Arabia Self Contained Breathing Apparatus (SCBA) Revenue (Value) and Growth Rate (2012-2022)
Figure South Africa Self Contained Breathing Apparatus (SCBA) Revenue (Value) and Growth Rate (2012-2022)
Figure Nigeria Self Contained Breathing Apparatus (SCBA) Revenue (Value) and Growth Rate (2012-2022)
Table MSA Basic Information, Manufacturing Base and Competitors
Table MSA Self Contained Breathing Apparatus (SCBA) Type and Applications
Table MSA Self Contained Breathing Apparatus (SCBA) Sales, Price, Revenue, Gross Margin and Market Share (2016-2017)
Table Scott Safety Basic Information, Manufacturing Base and Competitors
Table Scott Safety Self Contained Breathing Apparatus (SCBA) Type and Applications
Table Scott Safety Self Contained Breathing Apparatus (SCBA) Sales, Price, Revenue, Gross Margin and Market Share (2016-2017)
Table Honeywell Basic Information, Manufacturing Base and Competitors
Table Honeywell Self Contained Breathing Apparatus (SCBA) Type and Applications
Table Honeywell Self Contained Breathing Apparatus (SCBA) Sales, Price, Revenue, Gross Margin and Market Share (2016-2017)
Table Dr?ger Basic Information, Manufacturing Base and Competitors
Table Dr?ger Self Contained Breathing Apparatus (SCBA) Type and Applications
Table Dr?ger Self Contained Breathing Apparatus (SCBA) Sales, Price, Revenue, Gross Margin and Market Share (2016-2017)
Table Interspiro Basic Information, Manufacturing Base and Competitors
Table Interspiro Self Contained Breathing Apparatus (SCBA) Type and Applications
Table Interspiro Self Contained Breathing Apparatus (SCBA) Sales, Price, Revenue, Gross Margin and Market Share (2016-2017)
Table Cam Lock Basic Information, Manufacturing Base and Competitors
Table Cam Lock Self Contained Breathing Apparatus (SCBA) Type and Applications
Table Cam Lock Self Contained Breathing Apparatus (SCBA) Sales, Price, Revenue, Gross Margin and Market Share (2016-2017)
Table Shigematsu Basic Information, Manufacturing Base and Competitors
Table Shigematsu Self Contained Breathing Apparatus (SCBA) Type and Applications
Table Shigematsu Self Contained Breathing Apparatus (SCBA) Sales, Price, Revenue, Gross Margin and Market Share (2016-2017)
Table Avon Basic Information, Manufacturing Base and Competitors
Table Avon Self Contained Breathing Apparatus (SCBA) Type and Applications
Table Avon Self Contained Breathing Apparatus (SCBA) Sales, Price, Revenue, Gross Margin and Market Share (2016-2017)
Table Matisec Basic Information, Manufacturing Base and Competitors
Table Matisec Self Contained Breathing Apparatus (SCBA) Type and Applications
Table Matisec Self Contained Breathing Apparatus (SCBA) Sales, Price, Revenue, Gross Margin and Market Share (2016-2017)
Table Sinoma Basic Information, Manufacturing Base and Competitors
Table Sinoma Self Contained Breathing Apparatus (SCBA) Type and Applications
Table Sinoma Self Contained Breathing Apparatus (SCBA) Sales, Price, Revenue, Gross Margin and Market Share (2016-2017)
Table Koken Basic Information, Manufacturing Base and Competitors
Table Koken Self Contained Breathing Apparatus (SCBA) Type and Applications
Table Koken Self Contained Breathing Apparatus (SCBA) Sales, Price, Revenue, Gross Margin and Market Share (2016-2017)
Table Global Self Contained Breathing Apparatus (SCBA) Sales by Manufacturer (2016-2017)
Figure Global Self Contained Breathing Apparatus (SCBA) Sales Market Share by Manufacturer in 2016
Figure Global Self Contained Breathing Apparatus (SCBA) Sales Market Share by Manufacturer in 2017
Table Global Self Contained Breathing Apparatus (SCBA) Revenue by Manufacturer (2016-2017)
Figure Global Self Contained Breathing Apparatus (SCBA) Revenue Market Share by Manufacturer in 2016
Figure Global Self Contained Breathing Apparatus (SCBA) Revenue Market Share by Manufacturer in 2017
Figure Global Self Contained Breathing Apparatus (SCBA) Sales and Growth (2012-2017)
Figure Global Self Contained Breathing Apparatus (SCBA) Revenue and Growth (2012-2017)
Table Global Self Contained Breathing Apparatus (SCBA) Sales by Regions (2012-2017)
Table Global Self Contained Breathing Apparatus (SCBA) Sales Market Share by Regions (2012-2017)
Table Global Self Contained Breathing Apparatus (SCBA) Revenue by Regions (2012-2017)
Table Global Self Contained Breathing Apparatus (SCBA) Revenue Market Share by Regions in 2012
Table Global Self Contained Breathing Apparatus (SCBA) Revenue Market Share by Regions in 2016
Figure North America Self Contained Breathing Apparatus (SCBA) Sales and Growth (2012-2017)
Figure Europe Self Contained Breathing Apparatus (SCBA) Sales and Growth (2012-2017)
Figure Asia-Pacific Self Contained Breathing Apparatus (SCBA) Sales and Growth (2012-2017)
Figure South America Self Contained Breathing Apparatus (SCBA) Sales and Growth (2012-2017)
Figure Middle East and Africa Self Contained Breathing Apparatus (SCBA) Sales and Growth (2012-2017)
Figure North America Self Contained Breathing Apparatus (SCBA) Revenue and Growth (2012-2017)
Table North America Self Contained Breathing Apparatus (SCBA) Sales by Countries (2012-2017)
Table North America Self Contained Breathing Apparatus (SCBA) Sales Market Share by Countries (2012-2017)
Figure North America Self Contained Breathing Apparatus (SCBA) Sales Market Share by Countries in 2012
Figure North America Self Contained Breathing Apparatus (SCBA) Sales Market Share by Countries in 2016
Table North America Self Contained Breathing Apparatus (SCBA) Revenue by Countries (2012-2017)
Table North America Self Contained Breathing Apparatus (SCBA) Revenue Market Share by Countries (2012-2017)
Figure North America Self Contained Breathing Apparatus (SCBA) Revenue Market Share by Countries in 2012
Figure North America Self Contained Breathing Apparatus (SCBA) Revenue Market Share by Countries in 2016
Figure USA Self Contained Breathing Apparatus (SCBA) Sales and Growth (2012-2017)
Figure Canada Self Contained Breathing Apparatus (SCBA) Sales and Growth (2012-2017)
Figure Mexico Self Contained Breathing Apparatus (SCBA) Sales and Growth (2012-2017)
Figure Europe Self Contained Breathing Apparatus (SCBA) Revenue and Growth (2012-2017)
Table Europe Self Contained Breathing Apparatus (SCBA) Sales by Countries (2012-2017)
Table Europe Self Contained Breathing Apparatus (SCBA) Sales Market Share by Countries (2012-2017)
Table Europe Self Contained Breathing Apparatus (SCBA) Revenue by Countries (2012-2017)
Table Europe Self Contained Breathing Apparatus (SCBA) Revenue Market Share by Countries in 2012
Table Europe Self Contained Breathing Apparatus (SCBA) Revenue Market Share by Countries in 2016
Figure Germany Self Contained Breathing Apparatus (SCBA) Sales and Growth (2012-2017)
Figure UK Self Contained Breathing Apparatus (SCBA) Sales and Growth (2012-2017)
Figure France Self Contained Breathing Apparatus (SCBA) Sales and Growth (2012-2017)
Figure Russia Self Contained Breathing Apparatus (SCBA) Sales and Growth (2012-2017)
Figure Italy Self Contained Breathing Apparatus (SCBA) Sales and Growth (2012-2017)
Figure Asia-Pacific Self Contained Breathing Apparatus (SCBA) Revenue and Growth (2012-2017)
Table Asia-Pacific Self Contained Breathing Apparatus (SCBA) Sales by Countries (2012-2017)
Table Asia-Pacific Self Contained Breathing Apparatus (SCBA) Sales Market Share by Countries (2012-2017)
Table Asia-Pacific Self Contained Breathing Apparatus (SCBA) Sales Market Share by Countries (2012-2017)
Table Asia-Pacific Self Contained Breathing Apparatus (SCBA) Revenue by Countries (2012-2017)
Table Asia-Pacific Self Contained Breathing Apparatus (SCBA) Revenue Market Share by Countries (2012-2017)
Figure China Self Contained Breathing Apparatus (SCBA) Sales and Growth (2012-2017)
Figure Japan Self Contained Breathing Apparatus (SCBA) Sales and Growth (2012-2017)
Figure Korea Self Contained Breathing Apparatus (SCBA) Sales and Growth (2012-2017)
Figure India Self Contained Breathing Apparatus (SCBA) Sales and Growth (2012-2017)
Figure Southeast Asia Self Contained Breathing Apparatus (SCBA) Sales and Growth (2012-2017)
Figure South America Self Contained Breathing Apparatus (SCBA) Revenue and Growth (2012-2017)
Table South America Self Contained Breathing Apparatus (SCBA) Sales by Countries (2012-2017)
Table South America Self Contained Breathing Apparatus (SCBA) Sales Market Share by Countries (2012-2017)
Figure South America Self Contained Breathing Apparatus (SCBA) Sales Market Share by Countries in 2016
Table South America Self Contained Breathing Apparatus (SCBA) Revenue by Countries (2012-2017)
Table South America Self Contained Breathing Apparatus (SCBA) Revenue Market Share by Countries (2012-2017)
Figure South America Self Contained Breathing Apparatus (SCBA) Revenue Market Share by Countries in 2012
Figure South America Self Contained Breathing Apparatus (SCBA) Revenue Market Share by Countries in 2016
Figure Brazil Self Contained Breathing Apparatus (SCBA) Sales and Growth (2012-2017)
Figure Argentina Self Contained Breathing Apparatus (SCBA) Sales and Growth (2012-2017)
Figure Columbia Self Contained Breathing Apparatus (SCBA) Sales and Growth (2012-2017)
Figure Middle East and Africa Self Contained Breathing Apparatus (SCBA) Revenue and Growth (2012-2017)
Table Middle East and Africa Self Contained Breathing Apparatus (SCBA) Sales by Countries (2012-2017)
Table Middle East and Africa Self Contained Breathing Apparatus (SCBA) Sales Market Share by Countries (2012-2017)
Figure Middle East and Africa Self Contained Breathing Apparatus (SCBA) Sales Market Share by Countries in 2016
Table Middle East and Africa Self Contained Breathing Apparatus (SCBA) Revenue by Countries (2012-2017)
Table Middle East and Africa Self Contained Breathing Apparatus (SCBA) Revenue Market Share by Countries (2012-2017)
Figure Middle East and Africa Self Contained Breathing Apparatus (SCBA) Revenue Market Share by Countries in 2012
Figure Middle East and Africa Self Contained Breathing Apparatus (SCBA) Revenue Market Share by Countries in 2016
Figure Saudi Arabia Self Contained Breathing Apparatus (SCBA) Sales and Growth (2012-2017)
Figure UAE Self Contained Breathing Apparatus (SCBA) Sales and Growth (2012-2017)
Figure Egypt Self Contained Breathing Apparatus (SCBA) Sales and Growth (2012-2017)
Figure Nigeria Self Contained Breathing Apparatus (SCBA) Sales and Growth (2012-2017)
Figure South Africa Self Contained Breathing Apparatus (SCBA) Sales and Growth (2012-2017)
Table Global Self Contained Breathing Apparatus (SCBA) Sales by Type (2012-2017)
Table Global Self Contained Breathing Apparatus (SCBA) Sales Share by Type (2012-2017)
Table Global Self Contained Breathing Apparatus (SCBA) Revenue by Type (2012-2017)
Table Global Self Contained Breathing Apparatus (SCBA) Revenue Share by Type (2012-2017)
Figure Global Open-Circuit Sales Growth (2012-2017)
Figure Global Open-Circuit Price (2012-2017)
Figure Global Closed-Circuit Sales Growth (2012-2017)
Figure Global Closed-Circuit Price (2012-2017)
Table Global Self Contained Breathing Apparatus (SCBA) Sales by Application (2012-2017)
Table Global Self Contained Breathing Apparatus (SCBA) Sales Share by Application (2012-2017)
Figure Global Fire Fighting Sales Growth (2012-2017)
Figure Global Industrial Use Sales Growth (2012-2017)
Figure Global Other Use Sales Growth (2012-2017)
Figure Global Self Contained Breathing Apparatus (SCBA) Sales, Revenue and Growth Rate (2017 -2022)
Table Global Self Contained Breathing Apparatus (SCBA) Sales Forecast by Regions (2017-2022)
Table Global Self Contained Breathing Apparatus (SCBA) Market Share Forecast by Regions (2017-2022)
Figure North America Sales Self Contained Breathing Apparatus (SCBA) Market Forecast (2017-2022)
Figure Europe Sales Self Contained Breathing Apparatus (SCBA) Market Forecast (2017-2022)
Figure Asia-Pacific Sales Self Contained Breathing Apparatus (SCBA) Market Forecast (2017-2022)
Figure South America Sales Self Contained Breathing Apparatus (SCBA) Market Forecast (2017-2022)
Figure Middle East and Africa Sales Self Contained Breathing Apparatus (SCBA) Market Forecast (2017-2022)
Table Global Self Contained Breathing Apparatus (SCBA) Sales Forecast by Type (2017-2022)
Table Global Self Contained Breathing Apparatus (SCBA) Market Share Forecast by Type (2017-2022)
Table Global Self Contained Breathing Apparatus (SCBA) Sales Forecast by Application (2017-2022)
Table Global Self Contained Breathing Apparatus (SCBA) Market Share Forecast by Application (2017-2022)
Table Distributors/Traders/ Dealers List
Qualitative Analysis covers:
Industry Status and Trends
Manufacturer/Company profiles, manufacturing base distribution, sales areas, product introduction, main business, market position and their competitors.
Product Development, Technology, Price, Cost, Manufacturing Process and Trends
Market segment by regions, types, applications and forecast
Market opportunities, potential, government policies and influence factors.

Quantitative Analysis covers:
Market size (value, sales/output, historical data and forecasts)
Sales/output/capacity, revenue, price, gross margin, market share, for top players. Through interviewing each manufacturers, distributors, traders, dealers and buyers etc.
Cost structure, proportion, price trend, gross margin and trend, status and trend, for 10 years
Market size by types, regions, applications for 10 years
Market forecast based on the potential demand from downstream clients/buyers, government, influence factors and the total economic indication, maybe occur in following years.

Data Sources: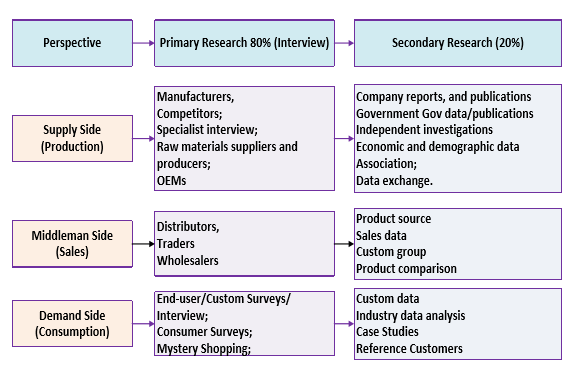 Other Reports by GlobalInfoResearch
Global Cat Litter Market 2018 by Manufacturers, Regions, Type and Application, Forecast to 2023
A litter box, sometimes called a sandbox, litter tray, litter pan, or catbox, is an indoor feces and urine collection box for cats (as well as rabbits, ferrets, micro pigs; small dogs, such as Beagles and Chihuahuas; and other pets that instinctively...
Global (North America, Europe, Asia-Pacific, South America, Middle East and Africa) Electrical Insulating Varnish Market 2018, Forecast to 2023
Electrical insulating varnish are used to ensure electrical devices, including motors, generators, transformers, sensors and other devices that function by electromagnetic induction, have the necessary electrical insulation and structural integrity f...
New Manufacturing and Construction Reports