Global Generator for Nuclear Power Market 2018 by Manufacturers, Regions, Type and Application, Forecast to 2023
Choose Licence
 

Nuclear power are heat exchangers used to convert water into steam from heat produced in a nuclear reactor core. They are used in pressurized water reactors (PWR) between the primary and secondary coolant loops.

Scope of the Report:
This report focuses on the Generator for Nuclear Power in global market, especially in North America, Europe and Asia-Pacific, South America, Middle East and Africa. This report categorizes the market based on manufacturers, regions, type and application.
There is a growing need for emission-free and cleaner power generation capacities globally. This is mainly due to the increasing awareness about reducing the fossil fuel footprint, especially in thermal power plants. As on date, it is expected that a quarter of the in-operation and existing fossil fuel plants worldwide have been in operation for more than three decades.
The worldwide market for Generator for Nuclear Power is expected to grow at a CAGR of roughly xx% over the next five years, will reach xx million US$ in 2023, from xx million US$ in 2017, according to a new GIR (Global Info Research) study.

Market Segment by Manufacturers, this report covers
    AREVA
    The State Atomic Energy Corporation ROSATOM
    Toshiba
    Mitsubishi Heavy Industries
    Doosan

Market Segment by Regions, regional analysis covers
    North America (United States, Canada and Mexico)
    Europe (Germany, France, UK, Russia and Italy)
    Asia-Pacific (China, Japan, Korea, India and Southeast Asia)
    South America (Brazil, Argentina, Colombia etc.)
    Middle East and Africa (Saudi Arabia, UAE, Egypt, Nigeria and South Africa)

Market Segment by Type, covers
    Pressurized Water Reactor (PWR)
    Water-Water Energetic Reactor?WWER)
    Pressurized Heavy Water Reactor (PHWR)

Market Segment by Applications, can be divided into
    Fast Neutron Nuclear Reactors
    Molten-Salt Reactors
    Others

There are 15 Chapters to deeply display the global Generator for Nuclear Power market.
Chapter 1, to describe Generator for Nuclear Power Introduction, product scope, market overview, market opportunities, market risk, market driving force;
Chapter 2, to analyze the top manufacturers of Generator for Nuclear Power, with sales, revenue, and price of Generator for Nuclear Power, in 2016 and 2017;
Chapter 3, to display the competitive situation among the top manufacturers, with sales, revenue and market share in 2016 and 2017;
Chapter 4, to show the global market by regions, with sales, revenue and market share of Generator for Nuclear Power, for each region, from 2013 to 2018;
Chapter 5, 6, 7, 8 and 9, to analyze the market by countries, by type, by application and by manufacturers, with sales, revenue and market share by key countries in these regions;
Chapter 10 and 11, to show the market by type and application, with sales market share and growth rate by type, application, from 2013 to 2018;
Chapter 12, Generator for Nuclear Power market forecast, by regions, type and application, with sales and revenue, from 2018 to 2023;
Chapter 13, 14 and 15, to describe Generator for Nuclear Power sales channel, distributors, traders, dealers, Research Findings and Conclusion, appendix and data source





                           
 

Table of Contents

1 Market Overview
    1.1 Generator for Nuclear Power Introduction
    1.2 Market Analysis by Type
        1.2.1 Pressurized Water Reactor (PWR)
        1.2.2 Water-Water Energetic Reactor?WWER)
        1.2.3 Pressurized Heavy Water Reactor (PHWR)
    1.3 Market Analysis by Applications
        1.3.1 Fast Neutron Nuclear Reactors
        1.3.2 Molten-Salt Reactors
        1.3.3 Others
    1.4 Market Analysis by Regions
        1.4.1 North America (United States, Canada and Mexico)
            1.4.1.1 United States Market States and Outlook (2013-2023)
            1.4.1.2 Canada Market States and Outlook (2013-2023)
            1.4.1.3 Mexico Market States and Outlook (2013-2023)
        1.4.2 Europe (Germany, France, UK, Russia and Italy)
            1.4.2.1 Germany Market States and Outlook (2013-2023)
            1.4.2.2 France Market States and Outlook (2013-2023)
            1.4.2.3 UK Market States and Outlook (2013-2023)
            1.4.2.4 Russia Market States and Outlook (2013-2023)
            1.4.2.5 Italy Market States and Outlook (2013-2023)
        1.4.3 Asia-Pacific (China, Japan, Korea, India and Southeast Asia)
            1.4.3.1 China Market States and Outlook (2013-2023)
            1.4.3.2 Japan Market States and Outlook (2013-2023)
            1.4.3.3 Korea Market States and Outlook (2013-2023)
            1.4.3.4 India Market States and Outlook (2013-2023)
            1.4.3.5 Southeast Asia Market States and Outlook (2013-2023)
        1.4.4 South America, Middle East and Africa
            1.4.4.1 Brazil Market States and Outlook (2013-2023)
            1.4.4.2 Egypt Market States and Outlook (2013-2023)
            1.4.4.3 Saudi Arabia Market States and Outlook (2013-2023)
            1.4.4.4 South Africa Market States and Outlook (2013-2023)
            1.4.4.5 Nigeria Market States and Outlook (2013-2023)
    1.5 Market Dynamics
        1.5.1 Market Opportunities
        1.5.2 Market Risk
        1.5.3 Market Driving Force
2 Manufacturers Profiles
    2.1 AREVA
        2.1.1 Business Overview
        2.1.2 Generator for Nuclear Power Type and Applications
            2.1.2.1 Product A
            2.1.2.2 Product B
        2.1.3 AREVA Generator for Nuclear Power Sales, Price, Revenue, Gross Margin and Market Share (2016-2017)
    2.2 The State Atomic Energy Corporation ROSATOM
        2.2.1 Business Overview
        2.2.2 Generator for Nuclear Power Type and Applications
            2.2.2.1 Product A
            2.2.2.2 Product B
        2.2.3 The State Atomic Energy Corporation ROSATOM Generator for Nuclear Power Sales, Price, Revenue, Gross Margin and Market Share (2016-2017)
    2.3 Toshiba
        2.3.1 Business Overview
        2.3.2 Generator for Nuclear Power Type and Applications
            2.3.2.1 Product A
            2.3.2.2 Product B
        2.3.3 Toshiba Generator for Nuclear Power Sales, Price, Revenue, Gross Margin and Market Share (2016-2017)
    2.4 Mitsubishi Heavy Industries
        2.4.1 Business Overview
        2.4.2 Generator for Nuclear Power Type and Applications
            2.4.2.1 Product A
            2.4.2.2 Product B
        2.4.3 Mitsubishi Heavy Industries Generator for Nuclear Power Sales, Price, Revenue, Gross Margin and Market Share (2016-2017)
    2.5 Doosan
        2.5.1 Business Overview
        2.5.2 Generator for Nuclear Power Type and Applications
            2.5.2.1 Product A
            2.5.2.2 Product B
        2.5.3 Doosan Generator for Nuclear Power Sales, Price, Revenue, Gross Margin and Market Share (2016-2017)
3 Global Generator for Nuclear Power Sales, Revenue, Market Share and Competition by Manufacturer (2016-2017)
    3.1 Global Generator for Nuclear Power Sales and Market Share by Manufacturer (2016-2017)
    3.2 Global Generator for Nuclear Power Revenue and Market Share by Manufacturer (2016-2017)
    3.3 Market Concentration Rate
        3.3.1 Top 3 Generator for Nuclear Power Manufacturer Market Share in 2017
        3.3.2 Top 6 Generator for Nuclear Power Manufacturer Market Share in 2017
    3.4 Market Competition Trend
4 Global Generator for Nuclear Power Market Analysis by Regions
    4.1 Global Generator for Nuclear Power Sales, Revenue and Market Share by Regions
        4.1.1 Global Generator for Nuclear Power Sales and Market Share by Regions (2013-2018)
        4.1.2 Global Generator for Nuclear Power Revenue and Market Share by Regions (2013-2018)
    4.2 North America Generator for Nuclear Power  Sales and Growth Rate (2013-2018)
    4.3 Europe Generator for Nuclear Power  Sales and Growth Rate (2013-2018)
    4.4 Asia-Pacific Generator for Nuclear Power  Sales and Growth Rate (2013-2018)
    4.5 South America Generator for Nuclear Power  Sales and Growth Rate (2013-2018)
    4.6 Middle East and Africa Generator for Nuclear Power  Sales and Growth Rate (2013-2018)
5 North America Generator for Nuclear Power by Countries
    5.1 North America Generator for Nuclear Power Sales, Revenue and Market Share by Countries
        5.1.1 North America Generator for Nuclear Power Sales and Market Share by Countries (2013-2018)
        5.1.2 North America Generator for Nuclear Power Revenue and Market Share by Countries (2013-2018)
    5.2 United States Generator for Nuclear Power Sales and Growth Rate (2013-2018)
    5.3 Canada Generator for Nuclear Power Sales and Growth Rate (2013-2018)
    5.4 Mexico Generator for Nuclear Power Sales and Growth Rate (2013-2018)
6 Europe Generator for Nuclear Power by Countries
    6.1 Europe Generator for Nuclear Power Sales, Revenue and Market Share by Countries
        6.1.1 Europe Generator for Nuclear Power Sales and Market Share by Countries (2013-2018)
        6.1.2 Europe Generator for Nuclear Power Revenue and Market Share by Countries (2013-2018)
    6.2 Germany Generator for Nuclear Power Sales and Growth Rate (2013-2018)
    6.3 UK Generator for Nuclear Power Sales and Growth Rate (2013-2018)
    6.4 France Generator for Nuclear Power Sales and Growth Rate (2013-2018)
    6.5 Russia Generator for Nuclear Power Sales and Growth Rate (2013-2018)
    6.6 Italy Generator for Nuclear Power Sales and Growth Rate (2013-2018)
7 Asia-Pacific Generator for Nuclear Power by Countries
    7.1 Asia-Pacific Generator for Nuclear Power Sales, Revenue and Market Share by Countries
        7.1.1 Asia-Pacific Generator for Nuclear Power Sales and Market Share by Countries (2013-2018)
        7.1.2 Asia-Pacific Generator for Nuclear Power Revenue and Market Share by Countries (2013-2018)
    7.2 China Generator for Nuclear Power Sales and Growth Rate (2013-2018)
    7.3 Japan Generator for Nuclear Power Sales and Growth Rate (2013-2018)
    7.4 Korea Generator for Nuclear Power Sales and Growth Rate (2013-2018)
    7.5 India Generator for Nuclear Power Sales and Growth Rate (2013-2018)
    7.6 Southeast Asia Generator for Nuclear Power Sales and Growth Rate (2013-2018)
8 South America Generator for Nuclear Power by Countries
    8.1 South America Generator for Nuclear Power Sales, Revenue and Market Share by Countries
        8.1.1 South America Generator for Nuclear Power Sales and Market Share by Countries (2013-2018)
        8.1.2 South America Generator for Nuclear Power Revenue and Market Share by Countries (2013-2018)
    8.2 Brazil Generator for Nuclear Power Sales and Growth Rate (2013-2018)
    8.3 Argentina Generator for Nuclear Power Sales and Growth Rate (2013-2018)
    8.4 Colombia Generator for Nuclear Power Sales and Growth Rate (2013-2018)
9 Middle East and Africa Generator for Nuclear Power by Countries
    9.1 Middle East and Africa Generator for Nuclear Power Sales, Revenue and Market Share by Countries
        9.1.1 Middle East and Africa Generator for Nuclear Power Sales and Market Share by Countries (2013-2018)
        9.1.2 Middle East and Africa Generator for Nuclear Power Revenue and Market Share by Countries (2013-2018)
    9.2 Saudi Arabia Generator for Nuclear Power Sales and Growth Rate (2013-2018)
    9.3 UAE Generator for Nuclear Power Sales and Growth Rate (2013-2018)
    9.4 Egypt Generator for Nuclear Power Sales and Growth Rate (2013-2018)
    9.5 Nigeria Generator for Nuclear Power Sales and Growth Rate (2013-2018)
    9.6 South Africa Generator for Nuclear Power Sales and Growth Rate (2013-2018)
10 Global Generator for Nuclear Power Market Segment by Type
    10.1 Global Generator for Nuclear Power Sales, Revenue and Market Share by Type (2013-2018)
        10.1.1 Global Generator for Nuclear Power Sales and Market Share by Type (2013-2018)
        10.1.2 Global Generator for Nuclear Power Revenue and Market Share by Type (2013-2018)
    10.2 Pressurized Water Reactor (PWR) Sales Growth and Price
        10.2.1 Global Pressurized Water Reactor (PWR) Sales Growth (2013-2018)
        10.2.2 Global Pressurized Water Reactor (PWR) Price (2013-2018)
    10.3 Water-Water Energetic Reactor?WWER) Sales Growth and Price
        10.3.1 Global Water-Water Energetic Reactor?WWER) Sales Growth (2013-2018)
        10.3.2 Global Water-Water Energetic Reactor?WWER) Price (2013-2018)
    10.4 Pressurized Heavy Water Reactor (PHWR) Sales Growth and Price
        10.4.1 Global Pressurized Heavy Water Reactor (PHWR) Sales Growth (2013-2018)
        10.4.2 Global Pressurized Heavy Water Reactor (PHWR) Price (2013-2018)
11 Global Generator for Nuclear Power Market Segment by Application
    11.1 Global Generator for Nuclear Power Sales Market Share by Application (2013-2018)
    11.2 Fast Neutron Nuclear Reactors Sales Growth (2013-2018)
    11.3 Molten-Salt Reactors Sales Growth (2013-2018)
    11.4 Others Sales Growth (2013-2018)
12 Generator for Nuclear Power Market Forecast (2018-2023)
    12.1 Global Generator for Nuclear Power Sales, Revenue and Growth Rate (2018-2023)
    12.2 Generator for Nuclear Power Market Forecast by Regions (2018-2023)
        12.2.1 North America Generator for Nuclear Power Market Forecast (2018-2023)
        12.2.2 Europe Generator for Nuclear Power Market Forecast (2018-2023)
        12.2.3 Asia-Pacific Generator for Nuclear Power Market Forecast (2018-2023)
        12.2.4 South America Generator for Nuclear Power Market Forecast (2018-2023)
        12.2.5 Middle East and Africa Generator for Nuclear Power Market Forecast (2018-2023)
    12.3 Generator for Nuclear Power Market Forecast by Type (2018-2023)
        12.3.1 Global Generator for Nuclear Power Sales Forecast by Type (2018-2023)
        12.3.2 Global Generator for Nuclear Power Market Share Forecast by Type (2018-2023)
    12.4 Generator for Nuclear Power Market Forecast by Application (2018-2023)
        12.4.1 Global Generator for Nuclear Power Sales Forecast by Application (2018-2023)
        12.4.2 Global Generator for Nuclear Power Market Share Forecast by Application (2018-2023)
13 Sales Channel, Distributors, Traders and Dealers
    13.1 Sales Channel
        13.1.1 Direct Marketing
        13.1.2 Indirect Marketing
        13.1.3 Marketing Channel Future Trend
    13.2 Distributors, Traders and Dealers
14 Research Findings and Conclusion
15 Appendix
    15.1 Methodology
    15.2 Data Source

List of Tables and Figures

Figure Generator for Nuclear Power Picture
Table Product Specifications of Generator for Nuclear Power
Figure Global Sales Market Share of Generator for Nuclear Power by Types in 2017
Table Generator for Nuclear Power Types for Major Manufacturers
Figure Pressurized Water Reactor (PWR) Picture
Figure Water-Water Energetic Reactor?WWER) Picture
Figure Pressurized Heavy Water Reactor (PHWR) Picture
Figure Generator for Nuclear Power Sales Market Share by Applications in 2017
Figure Fast Neutron Nuclear Reactors Picture
Figure Molten-Salt Reactors Picture
Figure Others Picture
Figure United States Generator for Nuclear Power Revenue (Value) and Growth Rate (2013-2023)
Figure Canada Generator for Nuclear Power Revenue (Value) and Growth Rate (2013-2023)
Figure Mexico Generator for Nuclear Power Revenue (Value) and Growth Rate (2013-2023)
Figure Germany Generator for Nuclear Power Revenue (Value) and Growth Rate (2013-2023)
Figure France Generator for Nuclear Power Revenue (Value) and Growth Rate (2013-2023)
Figure UK Generator for Nuclear Power Revenue (Value) and Growth Rate (2013-2023)
Figure Russia Generator for Nuclear Power Revenue (Value) and Growth Rate (2013-2023)
Figure Italy Generator for Nuclear Power Revenue (Value) and Growth Rate (2013-2023)
Figure China Generator for Nuclear Power Revenue (Value) and Growth Rate (2013-2023)
Figure Japan Generator for Nuclear Power Revenue (Value) and Growth Rate (2013-2023)
Figure Korea Generator for Nuclear Power Revenue (Value) and Growth Rate (2013-2023)
Figure India Generator for Nuclear Power Revenue (Value) and Growth Rate (2013-2023)
Figure Southeast Asia Generator for Nuclear Power Revenue (Value) and Growth Rate (2013-2023)
Figure Brazil Generator for Nuclear Power Revenue (Value) and Growth Rate (2013-2023)
Figure Egypt Generator for Nuclear Power Revenue (Value) and Growth Rate (2013-2023)
Figure Saudi Arabia Generator for Nuclear Power Revenue (Value) and Growth Rate (2013-2023)
Figure South Africa Generator for Nuclear Power Revenue (Value) and Growth Rate (2013-2023)
Figure Nigeria Generator for Nuclear Power Revenue (Value) and Growth Rate (2013-2023)
Table AREVA Basic Information, Manufacturing Base and Competitors
Table AREVA Generator for Nuclear Power Type and Applications
Table AREVA Generator for Nuclear Power Sales, Price, Revenue, Gross Margin and Market Share (2016-2017)
Table The State Atomic Energy Corporation ROSATOM Basic Information, Manufacturing Base and Competitors
Table The State Atomic Energy Corporation ROSATOM Generator for Nuclear Power Type and Applications
Table The State Atomic Energy Corporation ROSATOM Generator for Nuclear Power Sales, Price, Revenue, Gross Margin and Market Share (2016-2017)
Table Toshiba Basic Information, Manufacturing Base and Competitors
Table Toshiba Generator for Nuclear Power Type and Applications
Table Toshiba Generator for Nuclear Power Sales, Price, Revenue, Gross Margin and Market Share (2016-2017)
Table Mitsubishi Heavy Industries Basic Information, Manufacturing Base and Competitors
Table Mitsubishi Heavy Industries Generator for Nuclear Power Type and Applications
Table Mitsubishi Heavy Industries Generator for Nuclear Power Sales, Price, Revenue, Gross Margin and Market Share (2016-2017)
Table Doosan Basic Information, Manufacturing Base and Competitors
Table Doosan Generator for Nuclear Power Type and Applications
Table Doosan Generator for Nuclear Power Sales, Price, Revenue, Gross Margin and Market Share (2016-2017)
Table Global Generator for Nuclear Power Sales by Manufacturer (2016-2017)
Figure Global Generator for Nuclear Power Sales Market Share by Manufacturer in 2016
Figure Global Generator for Nuclear Power Sales Market Share by Manufacturer in 2017
Table Global Generator for Nuclear Power Revenue by Manufacturer (2016-2017)
Figure Global Generator for Nuclear Power Revenue Market Share by Manufacturer in 2016
Figure Global Generator for Nuclear Power Revenue Market Share by Manufacturer in 2017
Figure Top 3 Generator for Nuclear Power Manufacturer (Revenue) Market Share in 2017
Figure Top 6 Generator for Nuclear Power Manufacturer (Revenue) Market Share in 2017
Figure Global Generator for Nuclear Power Sales and Growth Rate (2013-2018)
Figure Global Generator for Nuclear Power Revenue and Growth Rate (2013-2018)
Table Global Generator for Nuclear Power Sales by Regions (2013-2018)
Table Global Generator for Nuclear Power Sales Market Share by Regions (2013-2018)
Table Global Generator for Nuclear Power Revenue by Regions (2013-2018)
Figure Global Generator for Nuclear Power Revenue Market Share by Regions in 2013
Figure Global Generator for Nuclear Power Revenue Market Share by Regions in 2017
Figure North America Generator for Nuclear Power Sales and Growth Rate (2013-2018)
Figure Europe Generator for Nuclear Power Sales and Growth Rate (2013-2018)
Figure Asia-Pacific Generator for Nuclear Power Sales and Growth Rate (2013-2018)
Figure South America Generator for Nuclear Power Sales and Growth Rate (2013-2018)
Figure Middle East and Africa Generator for Nuclear Power Sales and Growth Rate (2013-2018)
Figure North America Generator for Nuclear Power Revenue and Growth Rate (2013-2018)
Table North America Generator for Nuclear Power Sales by Countries (2013-2018)
Table North America Generator for Nuclear Power Sales Market Share by Countries (2013-2018)
Figure North America Generator for Nuclear Power Sales Market Share by Countries in 2013
Figure North America Generator for Nuclear Power Sales Market Share by Countries in 2017
Table North America Generator for Nuclear Power Revenue by Countries (2013-2018)
Table North America Generator for Nuclear Power Revenue Market Share by Countries (2013-2018)
Figure North America Generator for Nuclear Power Revenue Market Share by Countries in 2013
Figure North America Generator for Nuclear Power Revenue Market Share by Countries in 2017
Figure United States Generator for Nuclear Power Sales and Growth Rate (2013-2018)
Figure Canada Generator for Nuclear Power Sales and Growth Rate (2013-2018)
Figure Mexico Generator for Nuclear Power Sales and Growth Rate (2013-2018)
Figure Europe Generator for Nuclear Power Revenue and Growth Rate (2013-2018)
Table Europe Generator for Nuclear Power Sales by Countries (2013-2018)
Table Europe Generator for Nuclear Power Sales Market Share by Countries (2013-2018)
Table Europe Generator for Nuclear Power Revenue by Countries (2013-2018)
Figure Europe Generator for Nuclear Power Revenue Market Share by Countries in 2016
Figure Europe Generator for Nuclear Power Revenue Market Share by Countries in 2017
Figure Germany Generator for Nuclear Power Sales and Growth Rate (2013-2018)
Figure UK Generator for Nuclear Power Sales and Growth Rate (2013-2018)
Figure France Generator for Nuclear Power Sales and Growth Rate (2013-2018)
Figure Russia Generator for Nuclear Power Sales and Growth Rate (2013-2018)
Figure Italy Generator for Nuclear Power Sales and Growth Rate (2013-2018)
Figure Asia-Pacific Generator for Nuclear Power Revenue and Growth Rate (2013-2018)
Table Asia-Pacific Generator for Nuclear Power Sales by Countries (2013-2018)
Table Asia-Pacific Generator for Nuclear Power Sales Market Share by Countries (2013-2018)
Figure Asia-Pacific Generator for Nuclear Power Sales Market Share by Countries 2017
Table Asia-Pacific Generator for Nuclear Power Revenue by Countries (2013-2018)
Figure Asia-Pacific Generator for Nuclear Power Revenue Market Share by Countries 2017
Figure China Generator for Nuclear Power Sales and Growth Rate (2013-2018)
Figure Japan Generator for Nuclear Power Sales and Growth Rate (2013-2018)
Figure Korea Generator for Nuclear Power Sales and Growth Rate (2013-2018)
Figure India Generator for Nuclear Power Sales and Growth Rate (2013-2018)
Figure Southeast Asia Generator for Nuclear Power Sales and Growth Rate (2013-2018)
Figure South America Generator for Nuclear Power Revenue and Growth Rate (2013-2018)
Table South America Generator for Nuclear Power Sales by Countries (2013-2018)
Table South America Generator for Nuclear Power Sales Market Share by Countries (2013-2018)
Figure South America Generator for Nuclear Power Sales Market Share by Countries in 2017
Table South America Generator for Nuclear Power Revenue by Countries (2013-2018)
Table South America Generator for Nuclear Power Revenue Market Share by Countries (2013-2018)
Figure South America Generator for Nuclear Power Revenue Market Share by Countries in 2017
Figure Brazil Generator for Nuclear Power Sales and Growth Rate (2013-2018)
Figure Argentina Generator for Nuclear Power Sales and Growth Rate (2013-2018)
Figure Colombia Generator for Nuclear Power Sales and Growth Rate (2013-2018)
Figure Middle East and Africa Generator for Nuclear Power Revenue and Growth Rate (2013-2018)
Table Middle East and Africa Generator for Nuclear Power Sales by Countries (2013-2018)
Table Middle East and Africa Generator for Nuclear Power Sales Market Share by Countries (2013-2018)
Figure Middle East and Africa Generator for Nuclear Power Sales Market Share by Countries in 2017
Table Middle East and Africa Generator for Nuclear Power Revenue by Countries (2013-2018)
Table Middle East and Africa Generator for Nuclear Power Revenue Market Share by Countries (2013-2018)
Figure Middle East and Africa Generator for Nuclear Power Revenue Market Share by Countries in 2013
Figure Middle East and Africa Generator for Nuclear Power Revenue Market Share by Countries in 2017
Figure Saudi Arabia Generator for Nuclear Power Sales and Growth Rate (2013-2018)
Figure UAE Generator for Nuclear Power Sales and Growth Rate (2013-2018)
Figure Egypt Generator for Nuclear Power Sales and Growth Rate (2013-2018)
Figure Nigeria Generator for Nuclear Power Sales and Growth Rate (2013-2018)
Figure South Africa Generator for Nuclear Power Sales and Growth Rate (2013-2018)
Table Global Generator for Nuclear Power Sales by Type (2013-2018)
Table Global Generator for Nuclear Power Sales Share by Type (2013-2018)
Table Global Generator for Nuclear Power Revenue by Type (2013-2018)
Table Global Generator for Nuclear Power Revenue Share by Type (2013-2018)
Figure Global Pressurized Water Reactor (PWR) Sales Growth (2013-2018)
Figure Global Pressurized Water Reactor (PWR) Price (2013-2018)
Figure Global Water-Water Energetic Reactor?WWER) Sales Growth (2013-2018)
Figure Global Water-Water Energetic Reactor?WWER) Price (2013-2018)
Figure Global Pressurized Heavy Water Reactor (PHWR) Sales Growth (2013-2018)
Figure Global Pressurized Heavy Water Reactor (PHWR) Price (2013-2018)
Table Global Generator for Nuclear Power Sales by Application (2013-2018)
Table Global Generator for Nuclear Power Sales Share by Application (2013-2018)
Figure Global Molten-Salt Reactors Sales Growth (2013-2018)
Figure Global Others Sales Growth (2013-2018)
Figure Global Generator for Nuclear Power Sales, Revenue and Growth Rate (2018-2023)
Table Global Generator for Nuclear Power Sales Forecast by Regions (2018-2023)
Table Global Generator for Nuclear Power Market Share Forecast by Regions (2018-2023)
Figure North America Sales Generator for Nuclear Power Market Forecast (2018-2023)
Figure Europe Sales Generator for Nuclear Power Market Forecast (2018-2023)
Figure Asia-Pacific Sales Generator for Nuclear Power Market Forecast (2018-2023)
Figure South America Sales Generator for Nuclear Power Market Forecast (2018-2023)
Figure Middle East and Africa Sales Generator for Nuclear Power Market Forecast (2018-2023)
Table Global Generator for Nuclear Power Sales Forecast by Type (2018-2023)
Table Global Generator for Nuclear Power Market Share Forecast by Type (2018-2023)
Table Global Generator for Nuclear Power Sales Forecast by Application (2018-2023)
Table Global Generator for Nuclear Power Market Share Forecast by Application (2018-2023)
Table Distributors/Traders/ Dealers List
Qualitative Analysis covers:
Industry Status and Trends
Manufacturer/Company profiles, manufacturing base distribution, sales areas, product introduction, main business, market position and their competitors.
Product Development, Technology, Price, Cost, Manufacturing Process and Trends
Market segment by regions, types, applications and forecast
Market opportunities, potential, government policies and influence factors.

Quantitative Analysis covers:
Market size (value, sales/output, historical data and forecasts)
Sales/output/capacity, revenue, price, gross margin, market share, for top players. Through interviewing each manufacturers, distributors, traders, dealers and buyers etc.
Cost structure, proportion, price trend, gross margin and trend, status and trend, for 10 years
Market size by types, regions, applications for 10 years
Market forecast based on the potential demand from downstream clients/buyers, government, influence factors and the total economic indication, maybe occur in following years.

Data Sources: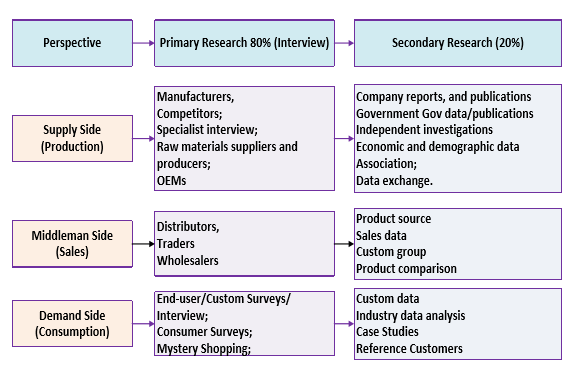 Other Reports by GlobalInfoResearch
Global (North America, Europe, Asia-Pacific, South America, Middle East and Africa) Leather Goods Market 2018, Forecast to 2023
Leather Goods is a general designation for the products that are made from leather, which include a wide range of goods, such as sofa, leather chairs, leather handbag, luggage and wallet, etc. In a broader sens Scope of the Report: This report fo...
New Energy and Power Reports